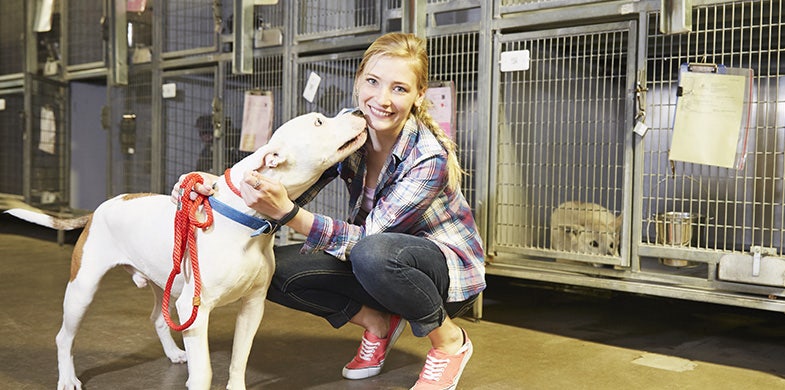 by Tracey Pollack
Wild about animals?
They add so much to our lives
, so let's make life better for them. Join millions in taking part in
Be Kind to Animals Week
, which runs from May 6
th
through 12
th
this year. Back in 1915, the American Humane Society designated the first full week of May as a time to celebrate the role that animals play in our lives and encourage everyone, especially children, to show all creatures compassion. As the nation's longest-running and most successful humane education campaign,
Be Kind to Animals Week
is an outstanding opportunity to celebrate our special bond with animals. You can make the world more welcoming for them in these six wild ways.
Donate to a Cause for Paws
Contribute funds, food or supplies to an animal shelter, rescue center or animal charity group. These welfare organizations are greatly in need of any donations you can give. In addition, consider bringing pet food to local food banks to help the many low-income families take good care of their pets. By making a donation, you would be making a world of difference to helpless and homeless animals.
Volunteer to Give Creatures Comfort
Come to the rescue of an animal shelter, rescue center or humane organization by giving them a helping hand. You could volunteer to foster cats, walk dogs, help with fundraising programs or try to find homes for their animals. Call the organizations near you and ask how you can help them on their mission to helping animals.
Make a Beeline for Humane Foods and Products
Did you know that many of the foods and household products you buy from large corporations are full of hormones, raised with antibiotics or tested on animals? If this makes you hot under the collar, start filling your pantry and your plate with free-range eggs, humanely-raised poultry, wild fish and organic produce. And only purchase products that aren't tested on animals. Check the labels on the lotions, soaps, cosmetics, shampoos and cleaning products in your house to see if they're animal friendly. By filling your home with humane products, you'll do a lion's share of good for animals everywhere.
Take Flying Friends Under Your Wing
Support local birds and butterflies by building an animal-friendly habitat right in your own backyard. Put out birdseed dispensers, hummingbird feeders, a birdbath and flowering plants that appeal to winged wildlife. And make your yard a healthy haven by removing any plants that may be toxic for animals. Along with getting a birds-eye view of these beautiful airborne creatures, you'll be feeding their needs for survival.
Make Vet Visits Second Nature
Your pet's health is in your hands, so find a trusted veterinarian and schedule regular check-ups to detect any problems before they become serious. Ask your vet for guidelines on your pet's care and medical needs. Stay current on their vaccinations and be sure to spay or neuter your pets to control over-population. And always keep your vet's phone number on hand in case of concerns or emergencies.
Treat Your Pets to TLC
Just like you, pets crave love and attention.
Be Kind to Animals Week
serves as a reminder to give your constant companion the care and affection they need. Spend time playing with your pet and giving them plenty of exercise. When your pet makes a mistake, always be patient and kind since they learn from positive experiences. Provide enough fresh food and water each day, while keeping treats at healthy levels. Make safety a priority by ensuring that your pet is wearing proper identification or has a microchip. And always be kind to your neighbor's pets by pet-sitting when they're away or taking their dog for a walk when they can't.
After you celebrate
Be Kind to Animals Week,
be sure to keep the kindness going with wild abandon. It not only will help our furry and feathered friends, it will also help you live a happier, more fulfilling life.