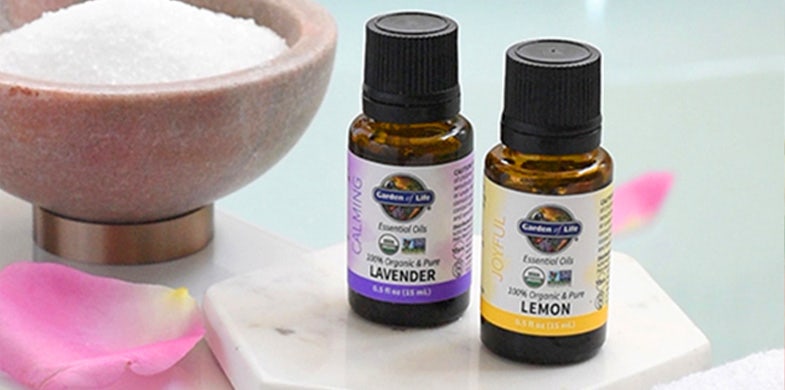 Try this all-natural DIY recipe for soaking salts to add a little luxury to your bathtub. We all deserve some time to unwind and clear our minds. Epsom salts are made from magnesium sulfate and can reduce pain and inflammation and eliminate toxins. Combine them with the aromatherapy powers of essential oils and you're sure to feel relaxed and rejuvenated. Make a batch of this bath soak and store ahead for the perfect bath-time occasion.

Remember to treat your skin with care by using a trusted brand of essential oils that are certified 100% organic and pure, like Garden of Life essential oils.

What you'll need:
1 cup Epsom salts
1 cup sea salt
¼ cup baking soda
20 drops of Garden of Life essential oils

Pick your favorite scent or try one of our recommended blends
Instructions:
Mix together Epsom salts, sea salt and baking soda in a medium-sized bowl
Stir well, taking the time to break up clumps as needed
Add 20 drops of your selected Garden of Life essential oils and stir until thoroughly mixed
Spoon mixture into clean jars and store until use [optional]
When you're ready, draw a warm bath. Add two cups of soaking salt mix as the water is running to help the salts dissolve and the oils disperse
Lay back and relax for up to 20 minutes and rinse off when complete

Recommended essential oil blends:
To soothe: Lemon and Lavender
To invigorate: Frankincense and Sweet Orange
To relax: Sleep Blend
To clear your mind: Rosemary and Lemon
To brighten: Geranium and Lavender
To uplift: Happy Blend

We recommend avoiding blends with peppermint, since it can have a harsh, menthol-like effect on the skin.