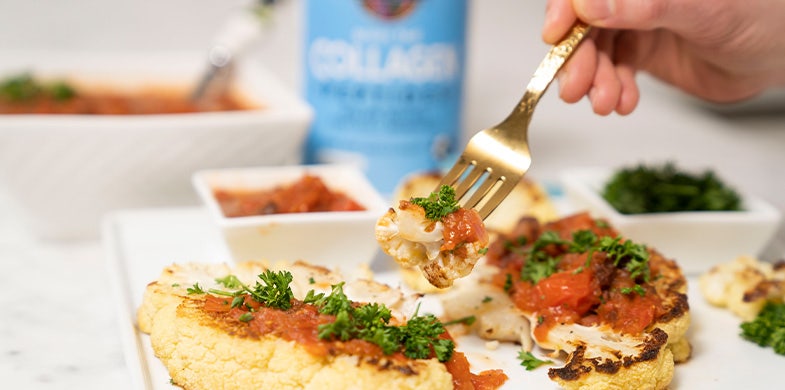 These delicious cauliflower "steaks" recipe with tomato chutney has the added nutrition of Collagen Peptides to make this dish as healthy as it is tasty!
Serves: 4
Ingredients
Use Organic if possible
1 large head of cauliflower

Olive oil

Salt and pepper
For Chutney:
4 cups cherry tomatoes

½ purple onion

¼ cup raisins

¼ cup apple cider vinegar

1 scoop Garden of Life Collagen Peptides

2 tsp coconut palm sugar

1 ½ tsp sea salt

½ tsp red pepper flakes

½ tsp ginger powder

¼ tsp black pepper

¼ cup chopped parsley
Preparation
To make the tomato chutney, first cut the cherry tomatoes in half.

Next, chop onion then add all chutney ingredients into a pot and bring to a low boil and let cook for 30 minutes.

Once the liquid has reduced, use an immersion blender to break down tomatoes and onions. (If you don't have an immersion blender, just chop tomatoes and onions in to smaller pieces before putting them into the pot).

To make the cauliflower steaks, first remove the green leaves from the cauliflower.

Next, cut 4 horizontal pieces of "steak" then place them on a foil lined baking sheet.

Sprinkle olive oil, salt and pepper onto both sides of the cauliflower then cover with foil.

Bake for 5 minutes at 500 degrees, then remove foil and bake for another 10 minutes.

Flip cauliflower then bake another 8 minutes then remove from oven and sprinkle parsley on top.

Serve with tomato chutney.