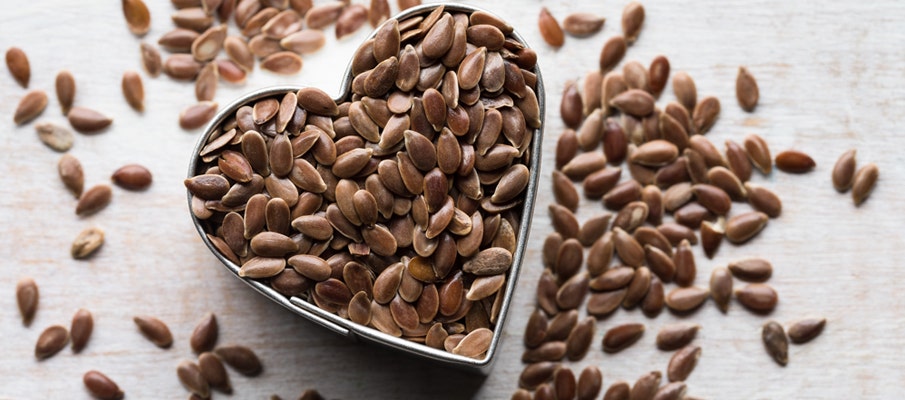 Flax seeds, also called linseeds, are tiny golden-brown seeds that you've probably seen in the baking ingredients or bulk section at the grocery store. They're sold either whole, milled, or made into flaxseed oil for cooking. Many people use flax seeds because of their mild flavor, ease of use, and the nutrition they offer in a small serving.
Below is everything you need to know about flaxseeds: their nutritional makeup, potential health benefits, and ideas to include them in your diet.
Flax Seeds Nutrition
You will get the most nutritional benefits from consuming ground flax seeds versus whole flax seeds because they are easier to digest this way. You can purchase pre-ground flax seeds, or flax seed meal, or buy them in their whole form and grind them yourself at home.
These little seeds provide unsaturated fatty acids, fiber, and an array of vitamins and minerals. In fact, they're one of the best plant sources of alpha-Linolenic acid (ALA). ALA is the precursor to the omega-3s Eicosapentaenoic acid (EPA) and Docosahexaenoic acid (DHA). Getting enough EPA and DHA is important for brain and eye health.
One tablespoon (9 grams) of ground flaxseeds has:
To preserve the nutritional benefits of flax seeds, store them in a cool, dry place and in an airtight container. Extend their shelf life by keeping them in the refrigerator or freezer.
Health Benefits of Flax Seeds
The compounds in flax seeds have been studied for a number of health benefits. Some of these include antioxidants, lignans, fiber, and phytosterols, which are all unique plant compounds.
Research suggests that regularly consuming flax seeds may help:
5 Ways to Use Flax Seeds
If you've avoided flax seeds thus far because you're unsure how to use them, you're in the right place. Ground flax is a natural thickening agent, making it a useful ingredient in many dishes. Here are 5 easy ways to add flax seeds to your diet!
1. Make vegan "eggs" for baking.
To make the equivalent of one single conventional egg, gently stir together 1 Tbsp. ground flax seed with 2 Tbsp. water in a small dish. Allow this to sit for 5 minutes to create a gel. Then, you can add it to the batter for muffins, waffles, and cake and bake as you normally would.
2. Blend into smoothies or puddings.
Add whole or pre-ground flax seeds to your fruity, chocolate smoothies, or homemade pudding. They will help naturally thicken them, especially if you let them sit overnight in the fridge.
3. Mix into yogurt and oatmeal.
Ground flax seeds have a nutty, earthy flavor that lends itself well to breakfast dishes and snacks. Toss a tablespoon or two into a yogurt bowl or your morning oatmeal, along with berries or granola.
4. Add to a breadcrumb coating.
When you're making a breadcrumb coating for things like chicken, tofu, or avocado wedges before roasting or frying them, add ground flax seed to help thicken and add more nutrition. A good starting point is 1-2 Tbsp. of ground flax per cup of breadcrumbs.
5. Add to natural nut butter.
Natural nut butter has to be stirred anyway, so why not boost the nutrition content by adding a small amount of ground flax seeds? These can be added right to the jar. Alternatively, you can sprinkle it onto nut butter after you spread it on a piece of toast.
However you choose to add flax seeds to your diet, you may be pleasantly surprised by how much they can offer in just a small amount.
Garden of Life offers three Flax Seed Options to add to your next supplement order:
---
References
Derbyshire E. Brain Health across the Lifespan: A Systematic Review on the Role of Omega-3 Fatty Acid Supplements.

Nutrients

. 2018;10(8):1094. doi:10.3390/nu10081094

Giannaccare G, Pellegrini M, Sebastiani S, et al. Efficacy of Omega-3 Fatty Acid Supplementation for Treatment of Dry Eye Disease: A Meta-Analysis of Randomized Clinical Trials.

Cornea

. 2019;38(5):565-573. doi:10.1097/ICO.0000000000001884

Kristensen M, Savorani F, Christensen S, et al. Flaxseed dietary fibers suppress postprandial lipemia and appetite sensation in young men.

Nutr Metab Cardiovasc Dis.

2013;23(2):136-143. doi:10.1016/j.numecd.2011.03.004

Parikh M, Netticadan T, Pierce GN. Flaxseed: its bioactive components and their cardiovascular benefits.

Am J Physiol Heart Circ Physiol.

2018;314(2):H146-H159. doi:10.1152/ajpheart.00400.2017

Djuricic I, Calder PC. Beneficial Outcomes of Omega-6 and Omega-3 Polyunsaturated Fatty Acids on Human Health: An Update for 2021.

Nutrients

. 2021;13(7):2421. doi:10.3390/nu13072421

Prasad K. Importance of Flaxseed and its Components in the Management of Hypertension.

Int J Angiol.

2019;28(3):153-160. doi:10.1055/s-0039-1678691

Rehman A, Saeed A, Kanwal R, Ahmad S, Changazi SH. Therapeutic Effect of Sunflower Seeds and Flax Seeds on Diabetes.

Cureus

. 2021;13(8):e17256.. doi:10.7759/cureus.17256