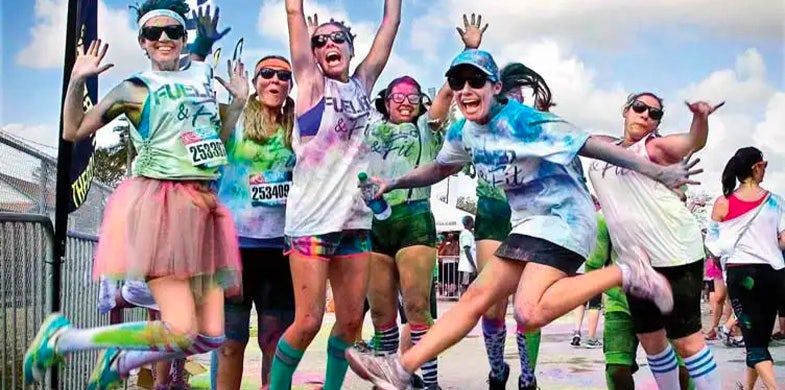 Decked out in FUELED & FIT t-shirts, tutus, crazy socks and even a superhero cape, several Garden of Life (GoL) team members hit the course for the West Palm Beach Color Vibe 5K. At each turn in a Color Vibe, the runners are blasted with colored powder—made from non-toxic, biodegradable cornstarch. By the time they cross the finish line, they are a vivid, colorful masterpiece.

The team showed up bright and early for the big event. They were ready to log tons of steps and to have some serious fun. "Color Vibe was a blast! It was such a great run, and I'm grateful to have experienced it with my co-workers. Additionally, one of the benefits of working for a company with the motto of Empowering Extraordinary Health is that GoL sponsored us by covering all of our entry fees, along with providing our awesome FUELED & FIT running shirts!" said Jim Crossey, Customer Service Representative.

The team had both novice runners/walkers and those who possessed a bit more of a seasoned, competitive nature.

Noelle Kujala, Key Account CSR Lead, stated , "The Color Vibe of West Palm Beach was my first ever 5K. I am not an avid runner, but thanks to encouragement from my awesome GoL co-workers, I signed up anyway, and walked-jogged the whole thing (sporting my RAW Fit FUELED & FIT t-shirt and a tutu, mind you) and had a blast! Now I've got "5K" fever I can't wait for the next one! Thanks to GoL for supporting the health and fitness of your employees! Best place to work ever!" Carrie Bertram, Marketing Assistant, displayed more of a competitive edge, and said, "I was the one weaving in and out of strollers and dodging small children as I raced to beat the boys, which I will say, I did!" The race culminated in a dance party of pulsating music and more streams of flying color.

"At the end of that 5K, it felt more like a fun outing with friends rather than an endurance event—not to mention our super fun dance party at the end! Thank you, Garden of Life, for making a fun and healthy lifestyle so easy to do with tools and support so readily available and encouraged. It's such a blessing to be a part of this team!" said Kimberly McCoy, Inside Sales Lead.

GoL's presence was definitely felt as one of the accountant's, Matt Borden's, superhero GoL cape flapped in the breeze as he outpaced many in the crowd to chants of, "Go, Garden of Life!"

And Garden of Life certainly did go—in a fun, fit and color-filled way!