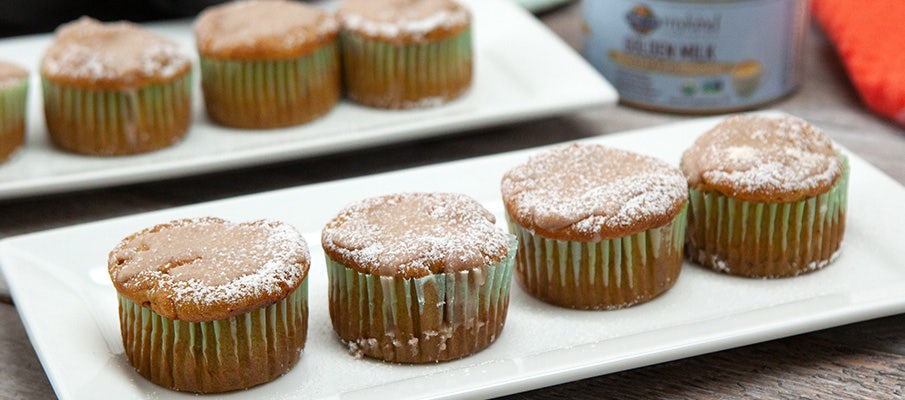 What screams "Autumn!" louder than this Golden Milk Cupcakes with Pumpkin Glaze recipe? Not much! Indulge in the flavors of the season while feeling good about using cleaner ingredients.
Serves: 18
Ingredients
Use Organic if possible
Cupcakes:
2 cups gluten-free flour

2 tsp baking powder

½ tsp sea salt

3 eggs

1¼ cup coconut palm sugar

1 tsp vanilla extract

1½ cups unsweetened almond milk
Glaze:
2 cups organic powdered sugar

¼ cup unsweetened almond milk

2 Tbsp almond butter

1 Tbsp pumpkin pie spice

1 tsp vanilla extract
Preparation
Preheat oven to 350 degrees.

Mix together dry ingredients (first 4 ingredients) and set aside.

Mix together wet ingredients (next 4 ingredients but NOT the almond milk).

Alternate the dry ingredients and the almond milk into the wet ingredients and mix until well combined.

Pour batter (about ¾ of the way up) into each cupcake cavity (use cupcake tins or grease pan) and bake for 23-25 minutes.

While cupcakes are baking, make the glaze.

Using an electric mixer, mix together all the glaze ingredients until smooth.

Once the cupcakes have baked and cooled, drizzle glaze over each cupcake then dust with cinnamon or powdered sugar.