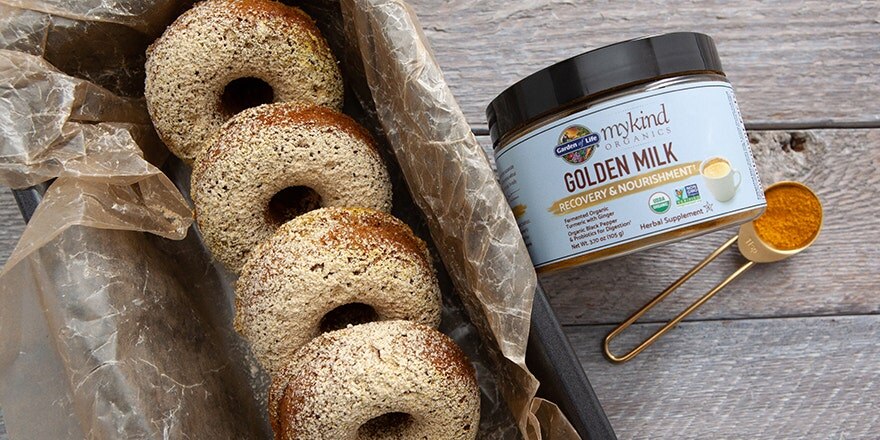 Get your fix of Golden Milk with these delicious baked Golden Milk Donuts from Chef Gwen!
Serves: 12
Ingredients
Use Organic if possible
1½ cups gluten-free flour

1½ tsp baking powder

1 tsp cinnamon

½ tsp sea salt

¼ tsp baking soda

2 eggs

½ cup coconut palm sugar

¼ cup honey

½ cup Garden of Life Coconut Oil melted

½ tsp vanilla

¾ cup unsweetened almond milk
Preparation
Preheat oven to 425 degrees.

Whisk together first 6 ingredients and set aside.

Using a hand-held mixer, mix together sugar, vanilla, honey and coconut palm sugar.

Add in eggs and mix again.

Next, alternate dry ingredients and almond milk into the sugar mixture until everything is well incorporated.

Grease donut pan with coconut oil or coconut spray and pour batter into each cavity about ¾ full.

Bake for 10 minutes then let cool at least 5 minutes before flipping onto a cooling rack.

Option: Mix together ½ cup of powdered sugar with 1 Tablespoon of Garden of Life Golden Milk and place in a mesh strainer and dust over donuts.