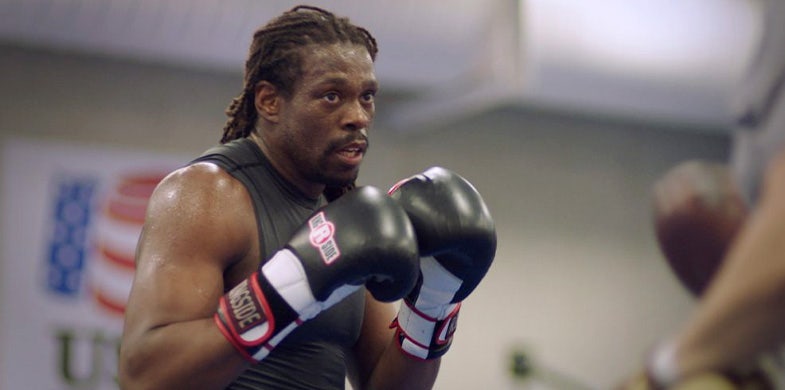 By Rhonda Price

Talk to almost any boxer, wrestler or mixed martial arts fighter and they'll tell you one of the hardest things they must do in order to compete is lose pounds or "cut weight." While many fighters drastically reduce carbs, fat, salt and calories a few weeks before a competition, boxing champ Cam F. Awesome happily chows down on anything he desires and typically consumes thousands of calories per day. That's the advantage of being vegan, which allows him to enter the ring "plant strong," while opponents are sometimes weaker from dieting.

The strategy is working well for the 24-year old from Lenexa, Kansas, who recently racked up his ninth national title by winning the 2013 USA Boxing Elite National Championship in Spokane, Washington. Competing in the Super Heavyweight Division, Cam unleashed his plant-based power on several opponents before defeating former champion Paul Koon. Cam took control early on, dodging left hooks and countering with his own jarring blows to the windpipe. He never let up, landing an onslaught of body blows that took a visible toll on Koon and led to his downfall. By the end of the match, the judges had no trouble awarding the gold medal to Cam with a unanimous 3-0 decision. An elated Cam took a victory spin around the ring in his cape and then thanked his sponsors, including Garden of Life®, JumpNRope, Intimidation MMA, Ring Side Boxing, iXLDoU and Engine2Diet. He was later told that his victory was an important milestone, as he now holds more titles in his weight class than anyone in the history of USA Boxing. How much of his success is due to living a vegan lifestyle? According to Cam, it's made all the difference.

"I lost almost 60 pounds after I became a vegan—and got much stronger in the process," he said. "I used to be very awkward, but now I am faster, stronger, and I can fight nonstop without getting tired."

Cam follows the Engine2 Diet and travels with his plant-based food coaches and friends, Bill and Ami Mackey, when he competes. Instead of staying in hotels, they rent condos equipped with kitchens and head to the nearest health food store to load up on organic produce, fruit, nuts, and grains. Ami is a certified nutritionist who conducts 28-day Engine2 Challenges at Whole Foods when she's not spoiling Cam with delicious vegan meals. While he prepared for his fights in Spokane, Cam was treated to Buckwheat Raisin Banana Pancakes, Brown Rice Kamut and Oats, Burrito Bowl Salads with Red Quinoa, and Roasted Sweet Potatoes. His favorite snacks include fresh pineapple and peanut butter on sprouted Ezekiel bread.

Cam's food coaches also introduced him to Garden of Life supplements, recommending them as the #1 selling brand in the industry. They're perfect for him because they are RAW, vegan, Non-GMO, and USDA Certified Organic. In no time at all, Cam was sold on the benefits of RAW Protein, RAW Organic Meal, and Vitamin Code® RAW ONE™ for Men multivitamins, just to name a few. His long-term plans are to keep clobbering his opponents with raw, plant-based power until he reaches the 2016 Olympics. To some, it might seem like a lofty goal, but not for Cam, who won the Olympic trials in 2012.

"I feel amazing," Cam said, as he packed to go to the Olympic Training Center in Colorado Springs. He also talked about a few other goals, such as fighting to increase awareness for breast cancer and teaching people the health benefits of a vegan diet. He said his only regret is his hectic travel schedule, which will mean missing his little sister's upcoming high school graduation.

"I'm bummed about that," he said. But admittedly, everything else in his world is just plain AWESOME.