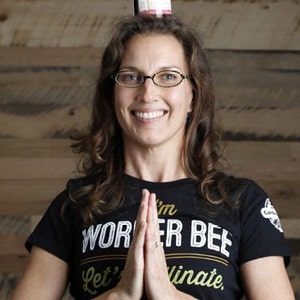 Amber Lynn Vitale, CN
Regional Educator – Northeast
Amber Lynn Vitale, C.N., is a certified nutritionist in Integrative Nutrition, and also brings her training in Ayurvedic Medicine to the team. Since early childhood, she has been fascinated with the power of foods, herbs and dietary supplements to optimize health and, after earning a B.A. in Economics and Russian, she went on to pursue this passion. For 16 years, she has both worked in product retail and maintained her own wellness practice, often working with doctors and alternative medical professionals promoting optimum health inside and out. She also has spent several years writing educational articles for a variety of natural health publications. Amber is excited to be a member of the Garden of Life Education team and to continue the mission of Empowering Extraordinary Health!
Amber's Q & A:
Current Location: Brooklyn, New York

Hometown: Cedaredge, Colorado
Education/Credentials: Certified Nutritionist, Ayurvedic Practitioner, Register Yoga Teacher, Licensed Massage Therapist, BA Economics.

When did you join Garden of Life? August 2014

Favorite Garden of Life Products: Perfect Food super greens and Perfect Food Raw, CoQ10, OPP Vanilla is a new favorite, RAW Fit, Resveratrol, mykind Multi

What are some of the highlights in your career? I have had many great personal experiences with individual clients over the years in practice. Attending my first Natural Products Expo in 2011 in Anaheim was exhilarating. I had never before seen so many natural products together in one place, and I felt I had found my tribe! Beginning to understand the industry through the people I met at Expos and the publications I began writing for enabled me to ascertain what was missing in the industry, what was needed. I started to position myself as a person available for consultation who could help a manufacturer differentiate its product from the competition by educating their customers. Whether it is product purity, standardization, USDA Organic Certified, NonGMO Project Verified, sustainably harvested and manufactured, exceeding FDA standards, or supportive of a cause, I wanted to help companies tell their story for better market positioning, also elevating the industry to higher standards. I called myself a Consumer Liason: consulting on the consumer mindset and educating the consumer through written word, video education and live presentations. Little did I know that I had exactly described what Garden of Life seeks in its Education team. I don't know another company that invests so much in this kind of education; it's a dissemination of information to our retailers and customers which calls the whole industry to task and elevates global standards. This has been a highlight: being hired to do exactly what I dreamed of!

What is your personal nutrition philosophy? If we ate it successfully and thrived on it for thousands, perhaps millions, of years, it's a good thing to eat today. If it was not around 100-200 years ago, forget about it.
What are some of the staples in your grocery basket and pantry? Organic cream, organic cultured butter, organic raw cheeses, organic/grass-fed/drug-free animal proteins, leafy greens for cooking and raw salads, organic apples and berries (in season), sauerkraut when we can, coconut oil, olive oil, pumpkin seed oil, apple cider and balsamic vinegars, red wine, organic fair trade coffee. Oh yeah, did I say cream? Okay . . . and Tate's Chocolate Chip cookies.
What is your favorite meal? Kids in bed, crusty fresh spent rye or ale bread, dry salami and serrano ham, arugula and baby kale, microgreens, raw grass fed local cheese, red wine. And BUTTER!

How do you stay fit? Yoga, bodyweight strengheners, moving back into Kick Fit/Muay Thai as time allows, walking in Brooklyn
Who is your nutrition mentor or hero? Weston Price, Élie Metchnikoff, Udo Erasmus, Mary Enig and Sally Fallon, Chris Kresser, Mark Sisson, and my Ayurvedic Teacher Jyoti Miller who taught me to really enjoy eating food, mindfulness

What do you read? All the above. Plus Geographic/Meteorological/Astronomical stuff. Anything about science and medicine and herbs
What sports team(s) do you follow? Don't. Sorry Education teammates. Well, not entirely true, I follow my son's soccer team.

Where is your favorite vacation spot? So Far…Tulum or Akumal, Mexico. Proposed? Aruba, Fiji, Thailand, and St. Lucia
Fun facts about yourself: I enjoy talking in foreign accents, especially when reprimanding my children…