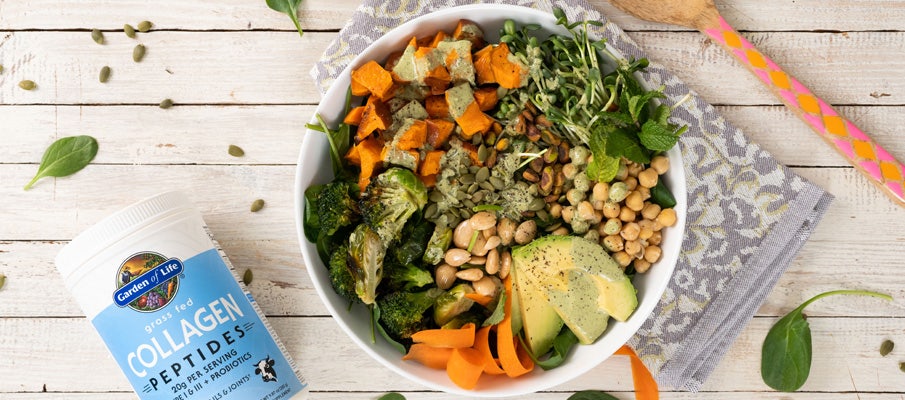 There's so much goodness in this delicious bowl, you'll look and feel like a goddess!† Well, you should feel that way with the abundance of healthy, nutritious foods in our Green Goddess Bowl recipe. Not only does this yummy recipe contain lots of nutritious veggies like Brussels sprouts, broccoli, spinach, and sweet potato, it also has beans, seeds, and nuts to feed your body. And even better, the great-tasting dressing will help nourish your skin with added Garden of Life Collagen Peptides.† So become your inner goddess with this gluten-free Green Goddess Bowl recipe that's sure to become your next go-to lunch.
Serves: 2 - 4
Ingredients
Dressing:
1 cup plain yogurt

½ cup water

2 Tbsp. olive oil

¼ cup chopped dill

¼ cup chopped cilantro

¼ cup chopped parsley

¼ cup avocado

2 minced garlic cloves

½ tsp. salt

¼ tsp. black pepper
Bowl:
2 cups broccoli flowerets

2 cups Brussels sprouts, trimmed and halved

1 large sweet potato, cut into bite sized pieces

4 cups spinach leaves

1 avocado, sliced into thin pieces

½ cup garbanzo beans

¼ cup pumpkin seeds

¼ cup pistachio nuts (chopped)

Fresh herbs like mint or basil
Preparation
Place all dressing ingredients into a blender or food processor and pulse until well combined.

For the bowl, preheat oven to 425 degrees. Place Brussels sprouts and broccoli onto a cookie sheet and drizzle olive oil on top and sprinkle a little salt on top. Roast for 10-minutes, flip pieces then roast for another 10 minutes. You can bake the sweet potato at the same time but it may take a few more minutes.

Toss the cubed sweet potato in some olive oil and salt and roast until fork tender.

Place spinach in a serving bowl, then add in the garbanzo beans, seeds, nuts and avocado.

Place the roasted vegetables on top, pour dressing over, then garnish with fresh herbs.