Our Sustainability Practices
Our future depends on the sustainable practices we follow now. Our commitment to sustainability in all areas of our business, from our green office environment to our manufacturing and packaging of our products, is paramount to the overall mission of Garden of Life™.
LEED Certification
LEED, or Leadership in Energy & Environmental Design, is a green building certification program that recognizes best-in-class building strategies and practices. LEED stands for green building leadership, and is transforming the way we think about how buildings and communities are designed, constructed, maintained and operated across the globe.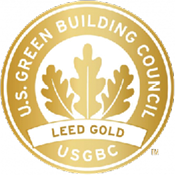 LEED certified buildings save money and resources and have a positive impact on the health of occupants, while promoting renewable, clean energy. LEED certification means healthier, more productive places, reduced stress on the environment by encouraging energy and resource-efficient buildings, and savings from increased building value, higher lease rates and decreased utility costs. In fact, 88 of the Fortune 100 companies are already using LEED.

To receive LEED certification, building projects satisfy prerequisites and earn points to achieve different levels of certification. Prerequisites and credits differ for each rating system, and teams choose the best fit for their project.

Leaders across the globe have made LEED the most widely used green building rating system in the world with 1.7 million square feet of construction space certifying every day. LEED certification provides independent verification of a building or neighborhood's green features, allowing for the design, construction, operation and maintenance of resource-efficient, high-performing, healthy, cost-effective buildings.

With LEED, better buildings are their legacy. The LEED plaque on a building is a mark of quality and achievement in green building. It's the triple bottom line in action, benefiting people, planet and profit.
To learn more, please visit leed.usgbc.org
---
Green-e Energy
Green-e® is the nation's leading voluntary certification program for renewable energy. Developed in conjunction with leading environmental, energy and policy organizations, Green-e® Energy has been certifying renewable energy that meets environmental and consumer protection standards for over a decade..

Green-e® also certifies businesses that purchase certified renewable energy to match their electricity use. Garden of Life proudly purchases enough Green-e® Certified Renewable Energy Credits to match 100% of its business operations and product manufacturing, which helps to build a market for renewable electricity. Renewable energy use has other environmental benefits such as emitting little or no regional air pollution or carbon dioxide.
When you see the Green-e® logo and buy renewable energy that is Green-e Energy Certified, you know the following:

You are supporting new renewable resources: The windmill, solar panel or other generator that produced your renewable energy was built in 1997.

There has been no double selling. You are the only one who can claim the benefits of the renewable energy you bought; these benefits include the fact that renewable energy produces little or no greenhouse gas emissions.


Your purchase goes beyond business as usual. You are buying renewable energy beyond what is required by law or claimed against a mandate, and are helping expand the production of renewable energy in the U.S. and Canada.
Green-e® Energy stands for verified, certified renewable energy and greenhouse gas emission reductions.
To learn more, please visit www.green-e.org/
---
Recyclable Packaging
One-quarter to one-third of all domestic waste is packaging and much of it is difficult to recycle. At Garden of Life, we are intentional about using 100% recyclable packaging—as well as printing with vegetable ink—as much as possible. It's a standard we are committed to for our products, our consumers and for our Earth, so look for recyclable packaging symbols on our products—such as this one.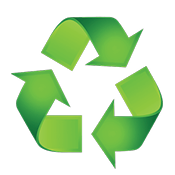 Called the Mobius Loop, this symbol indicates that an object is capable of being recycled-not that the object has been recycled or will be accepted in all recycling collection systems. Sometimes this symbol is used with a percentage figure in the middle to explain that the packaging contains a certain percentage of recycled material.

Recycling symbols can be further divided into two separate categories:
Recyclable symbols marking products made from specific materials that are suitable for recycling, depending on whether there is a collection mechanism in place within the local community for those particular materials.


Recycled symbols designating products containing recycled materials.
The use of the terms "recycled" and "recyclable," among others, and the display of the symbols is governed by the Federal Trade Commission's Guides for the Use of Environmental Marketing Claims. These guidelines govern all environmental claims attached to and/or associated with products, including those described in labeling, advertising and all forms of marketing.

The international standard for defining environmental claims on products or packaging can be found in ISO 14021: Environmental Labels and Declarations-Self-Declared Environmental Claims.
---
Printed With Soy Ink
Soy ink is a kind of ink made from soybeans. As opposed to traditional petroleum-based ink, soy-based ink is more environmentally friendly, might provide more accurate colors and makes it easier to recycle paper.
The American Soybean Association's (ASA) SoySeal trademark is used to easily identify products made with soybean oil—a renewable, U.S. grown product.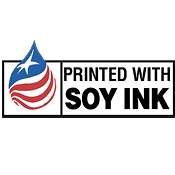 The story of the SoySeal began in the 1970s, long before the seal itself was created. In that decade, the dangerous environmental impact of the volatile organic compounds emitted from petroleum-based inks and the OPEC oil crisis pushed the need for an alternative to petroleum to a new level.

Research began to find the solution for a healthier, safer and more environmentally-sensible printing solution. Renewable, vegetable-based inks were found to be the answer, and soy ink's extensive list of benefits made it the front-running alternative to petroleum-based ink. Soy ink provides better print quality, richer colors, less rub-off and comes from a domestic source, all while maintaining a competitive price with petroleum-based inks.

In 1994, ASA and state soybean associations successfully lobbied Congress to enact the "Vegetable Ink Printing Act," pioneering legislation that required a preference for vegetable-based ink products in the printing ink procurement programs of federal agencies.

When you see the SoySeal on a publication, business card or package, you can be sure that the product you're holding is environmentally friendly, safe and high-quality ink.
---
Post-Consumer Recycled Bottle (PCR)
Post-Consumer Recycled Plastic is derived from an end product (such as a clear PET water bottle) that has completed its lifecycle as a consumer item and would otherwise have been disposed of as a solid waste product. Post-consumer plastics include plastics that have been collected in commercial and residential recycling programs.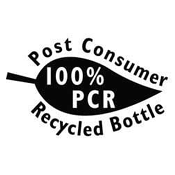 PET (or Polyethylene terephthalate) plastic is one of the most common plastics in the world. You have probably seen this plastic in your soda and water bottles that are marked with the resin code #1. PET is produced from fossil fuels—typically natural gas and petroleum—but is one of the easiest plastics to recycle.

The production of PCR plastic begins with the collection and sorting of recycled products in commercial and residential recycling programs (i.e. paper, plastic, metal, cardboard and aluminum cans). The contents are then separated, while washing and removing the scrap materials. The recyclable plastic is then extruded and reprocessed into post-consumer resin.

Benefits of PCR Plastic:

Helps avoid the further depletion of fossil fuels.

Can be made out of 100% post-consumer content.

PCR plastic offers resistance to stress cracking.

PCR plastic offers similar durability and appearance of PET plastic.


Less energy and water is required to produce PCR plastic than other plastic types.
---
FSC – Forests For All Forever™
FSC is an independent, non-profit organization that protects forests for future generations. FSC is an open, membership-led organization that sets standards under which forests and companies are certified. FSC membership consists of three equally weighted chambers—environmental, economic and social—to ensure the balance and the highest level of integrity.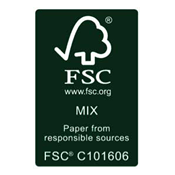 FSC certification ensures that products come from responsibly managed forests that provide environmental, social and economic benefits. The FSC Principles and Criteria provide a foundation for all forest management standards globally, including the FSC US National Standard (v1.0) that guides forest management certification in the U.S.

In order to use the FSC logo on printed documents, the document must have flowed through the FSC Chain of Custody from the FSC-certified forest, to a paper manufacturer, merchant and, finally, to a printer that has FSC Chain-of-Custody certification.
Over the past 20 years, FSC has earned a reputation as the most rigorous, credible forest certification system. As a result, there are significant advantages to choosing FSC-certified products:
Credibility: FSC is an independent, member-led group organized into social, environmental, and economic chambers that have equal authority.

Environmental Protection: FSC's forest management standards expand protection of water quality, prohibit harvest of rare old-growth forest, prevent loss of natural forest cover and prohibit highly hazardous chemicals, which are all unique aspects of the system.
Community Engagement: FSC requires forest managers, on both public and private lands, to engage local community members and to protect customary rights of indigenous people, ensuring their voices are part of the certification process and impacts of forest operations are addressed.
Access to Markets: Many major companies have policies that state a preference for FSC-certified products. Green building standards, including the US Green Building Council's LEED program, provide incentives for using FSC-certified materials.
Learn more about FSC: https://us.fsc.org/en-us