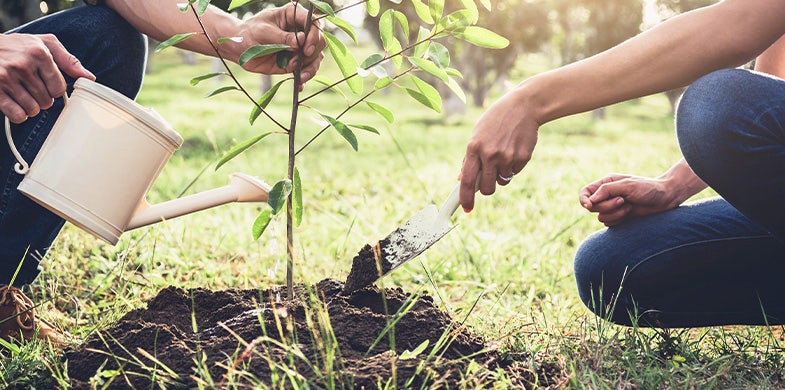 by Tracey Pollack
What in the world is Earth Day? It's an annual celebration held on April 22nd to raise awareness about protecting and preserving the planet. The day is designed for honoring the earth by showing support for environmental issues. Today, Earth Day inspires millions of people around the world to make the planet a better place by simply reducing, reusing and recycling to help the environment. Discover how making a few eco-friendly changes can do a world of good.
Get Growing
Since Earth Day is all about "going green," why not start "growing green" by planting a tree or starting a garden! Trees naturally purify the air and give wildlife a welcoming home, while providing a leafy canopy of cooling shade from the sun. Planting a garden can fill your yard with beautiful blooms, as well as yield garden-fresh fruits and veggies ideal for healthy meals and snacks that make cooking more convenient and reduce your carbon footprint from frequent car trips to the grocery store.
Park the Car
Each time you drive your car, it releases carbon emissions that pollute the air and contribute to global warming. Let Earth Day drive you to start shifting to alternative sources of transportation to get where you want to go. Rather than always relying on your car, try using public transportation, starting a carpool with your colleagues, riding your bike or walking to run your errands. As an added bonus, you'll be able to save money on gas while saving the environment.
Choose to Reuse Grocery Bags
It's time to sack those plastic bags that you bring home the grocery store because after they wind up in the trash, they pile up in our landfills and threaten marine wildlife. Rather than repeatedly reaching for plastic bags, grab reusable bags to pack up all of your purchases when you go to the grocery store. With a wide variety of stylish and sturdy reusable bags available today, you're sure to look good while you do good.
Drink to Smarter Straws
Did you know that Americans go through around 500 million plastic straws each year? Single-use plastics like drinking straws are dangerous for the environment because they're tossed away as trash, which makes them more to end up in the ocean where they pose a major threat to seabirds and turtles. Take care of these precious species by switching to slurping through reusable straws made out of stainless steel, silicone or bamboo.
Trash Paper
If you have piles of paper bank statements, bills, magazines and newspaper piling up, consider switching from paper copies to electronic sources. You can find practically everything online today and most companies will thank you for saving them the cost of printing and postage. Simply sign-up online for paperless options and you'll be able to stop trashing the environment.
Volunteer Locally to Help Globally
Each year, organizations in communities large and small host a variety of activities to celebrate Earth Day. Look for local opportunities to show your support by getting put and getting involved in an event that helps environment.
Once you start making these eco-friendly changes, protecting the environment will soon become second nature.