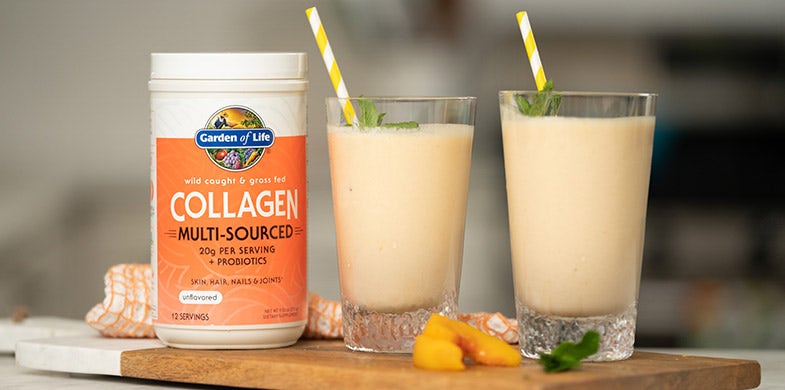 If you enjoy tea, you'll love this Chamomile Tea Recipe - a smoothie! It's everything you'd expect it to be, with the added goodness of Collagen. Use our Multi Sourced Collagen or any Garden of Life unflavored Collagen you love.
Serves: 2
Ingredients
Use Organic if possible
4 cups water
2 Chamomile Tea Bags
1 cup oat milk
2 cup frozen peaches
½ lemon, juice (plus zest of lemon)
1 Tbsp. honey
1 Tbsp. grated ginger
¾ cup cashews soaked in water for about 20 minutes, then rinsed and drained
Mint leaves for garnish
Preparation
Bring the 4 cups of water to a simmer, remove from heat and add tea bags. Let cool.
In a blender, add 1 cup of cooled tea, protein powder, oat milk, frozen peaches, lemon juice, honey, cashews, and ginger.
Blend until smooth, pour into glasses, stir in lemon zest and garnish with mint leaves. Enjoy!