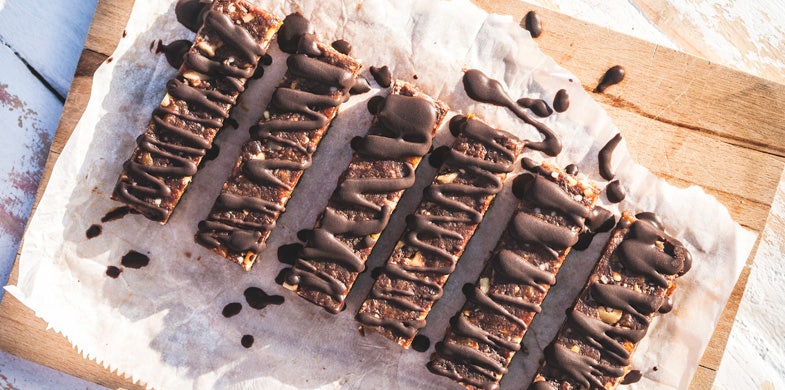 Chocolate lovers, this Chocolate Protein Bars with Chocolate Sauce recipe is for you! Full of the indulgent chocolatey flavor you love, this delicious, no-bake treat is vegan, raw, gluten free, dairy free, and soy free. And it makes 18 bars--perfect for sharing or enjoying throughout the week.
Bars:
1 cup cashews

1 cup coconut flakes

½ cup sunflower seeds

½ cup pumpkin seeds

2 Tbsp cashew or almond butter

8 Medjool dates (pitted)

4 or 5 dashes of cinnamon

1 Tbsp of water

dash of sea salt
Preparation
Place cashews, coconut flakes, seeds, protein powder, cinnamon and salt into a food processor using the S blade. Process everything down until you get a flour-like consistency.

Add dates, cashew butter and coconut oil. Process again until well mixed; then add 1 Tablespoon of water and process one more time until the batter is sticky.

Remove batter and place in a rectangular or square brownie pan. Press batter down until evenly distributed in pan.

Drizzle chocolate sauce on top, and let set in refrigerator for a few hours before cutting into bars. (Store in refrigerator for up to one week.) It's vegan, raw, gluten free, dairy free and soy free.