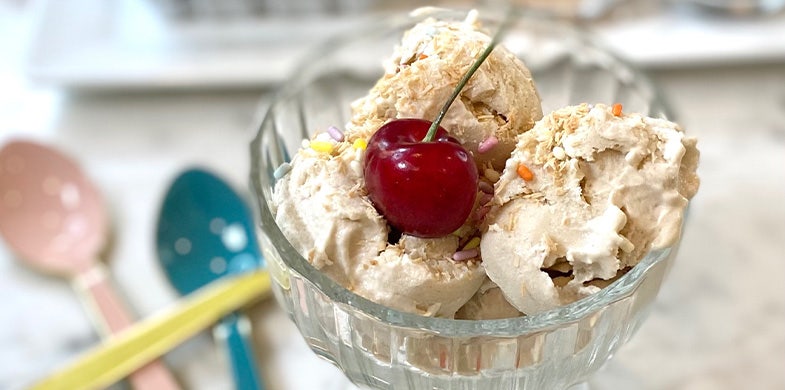 Recipe courtesy of Gwen Eager
Serves: 4-6
Use Organic:
2 cups cashews, soaked in water for 30 minutes then rinsed and drained
1 full fat can of coconut milk
2 scoops Garden of Life Collagen Protein Vanilla
½ cup maple syrup
1 tsp. coconut or vanilla extract (optional)
¾ cup shredded coconut flakes
Optional Toppings: chocolate chips, walnuts, strawberries, sprinkles
Preparation:
To make the toasted coconut flakes, preheat oven to 350 degrees. Place aluminum foil or parchment paper on a cookie sheet and spread coconut flakes on top. Toast for 6-8 minutes, until the coconut flakes are golden brown, then set aside to cool. To make the ice cream, place the cashews, coconut milk, maple syrup, collagen protein and coconut or vanilla extract into a high-speed blender or food processor and blend until smooth. Pour ice cream into a loaf pan and freeze for at least 4 hours. Let ice cream sit out for about 10 minutes before scooping (this will give you the right texture). Top with toasted coconut and other toppings of your choice. Ice cream lasts 4 weeks in freezer.