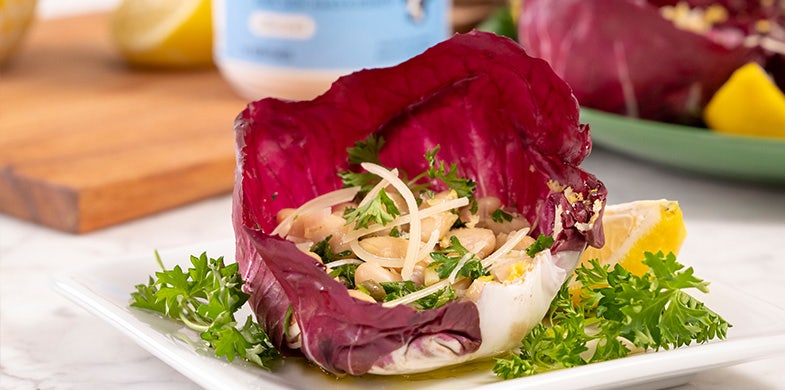 Garden of Life Radicchio Cups are a delicious side dish or a light meal with the added boost of Collagen!
Serves: 2-4
Ingredients
Use Organic if possible
1 head of radicchio

1 can cannellini beans

¼ cup minced shallot

2 Tbsp capers

¼ cup parsley

2 Tbsp olive oil
Dressing:
¼ cup olive oil

1 lemon juiced (save skin for zesting)

1 tsp Dijon mustard

1 scoop Garden of Life Collagen Peptides

¼ tsp sea salt

1/8 tsp black pepper

Lemon zest and grated parmesan for garnishing
Preparation
Rinse cannellini beans and set aside.

Heat a pan to medium high and add 2 Tbsp. of Olive oil and shallot.

Cook shallot for a few minutes then add capers (make sure to pat capers dry first).

After another 2 minutes, shut off heat and add parsley, stir and set aside. Tear off leaves from radicchio and set on a plate.

To make dressing, whisk together all dressing ingredients.

Add beans and dressing into pan (that is off heat) and gently toss together.

Place a few tablespoons of bean mixture into each radicchio leaf, then top with lemon zest and cheese (if desired).