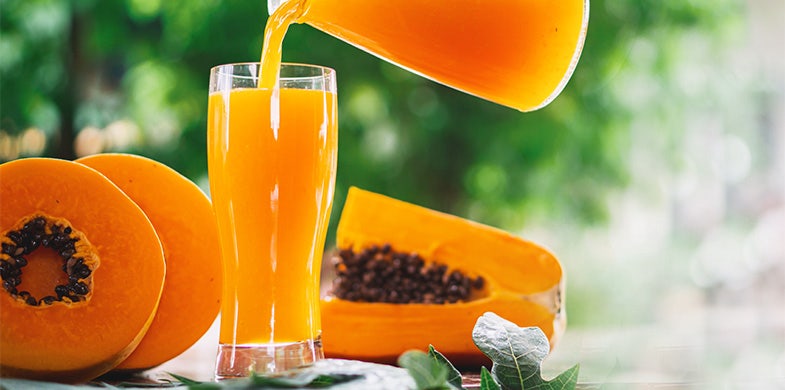 by Tracey Pollack
If you've always looked to oranges for a healthy dose of vitamin C, you may be surprised to discover that there are other great sources of this immunity-boosting vitamin right before your eyes. An essential part of your daily diet, vitamin C is an antioxidant that strengthens your immune system, helps your body heal and fights off the free radicals that can cause the inflammation that leads to chronic diseases. If you're a vegan or vegetarian, vitamin C also helps your body absorb the iron from plant-based foods. Since your body doesn't produce this vitamin naturally, you need to get enough from your diet. Luckily, oranges aren't the only foods bursting with vitamin C. Take a look at the many eye-opening sources of organic vitamin C.
Pep Up Your Diet with Organic Red Bell Peppers
Red alert! Red bell peppers put oranges to shame with nearly three times the vitamin C of the popular citrus standby. They're also a red-hot source of potassium and vitamins A, B, E and K. While green, yellow and orange bell peppers also have vitamin C, they have less than their sweeter scarlet sister, which stays on the vine to ripen longer. Add their natural sweetness to salads, stir-fries, pizzas and omelets to brighten up your meals and snacks.
Stalk Out Organic Broccoli
This versatile veggie contains bushels of vitamin C, filling fiber, potassium and antioxidants that help strengthen your immune system. It's immunity-boosting power stems from a chemical known as glutathione, which enhances your body's natural ability to fight off infections and illness. From the crown to the stem and the leaves, every part of this vegetable is edible and packed with powerful nutrients. While broccoli's mild taste takes on any flavor you favor, you can maximize broccoli's benefits by cooking as little as possible or just crunching on it raw.
Add a Tropical Twist with Organic Papaya
If you need a vacation from the usual apples and oranges, head to the tropics—the tropical fruit, that is! This tasty tropical fruit is packed with vitamin C, fiber and antioxidants, along with an enzyme called papain that aids in digestion. Papaya's bright orange skin and flesh reflect the warm, sunset colors of the tropical lands where it's grown. Its sweet and tangy taste makes it a natural blended in smoothies, mixed into yogurt, added to salads or grilled for dessert to get away from the everyday.
Burst into Organic Strawberries
Sweet strawberries are jam-packed with vitamin C. While low in calories and sugar, these bright-red berries are high in fiber, nutrients and an array of antioxidants that can help protect you from infections, diseases and several kinds of cancer. Topping your morning cereal or grabbed as a sweet snack, just one cup of strawberries gives you enough vitamin C for the day. While berries at their best in the spring and summer, you can enjoy them all year long since they're also available frozen, dried and jammed into jellies.
Head for Organic Brussels Sprouts
Brussels sprouts are a staple of holiday dinners, but these tiny, cabbage-like heads have been sprouting up everywhere in recent years, from the neighborhood farmer's market to hip restaurant menus. While they may be tasty and trendy, they're also incredibly healthy. Just one cup of Brussels sprouts provides three-quarters of the vitamin C you need daily, along with a hefty helping of fiber, folate, manganese, and vitamins A and K. To get the most benefits out of your Brussels, steam the sprouts lightly, shave them raw for a crunchy salad or roast them to bring out their sweetness for a feast of vitamin C.
Make a healthy change and freshen up your diet with these alternative sources of vitamin C.