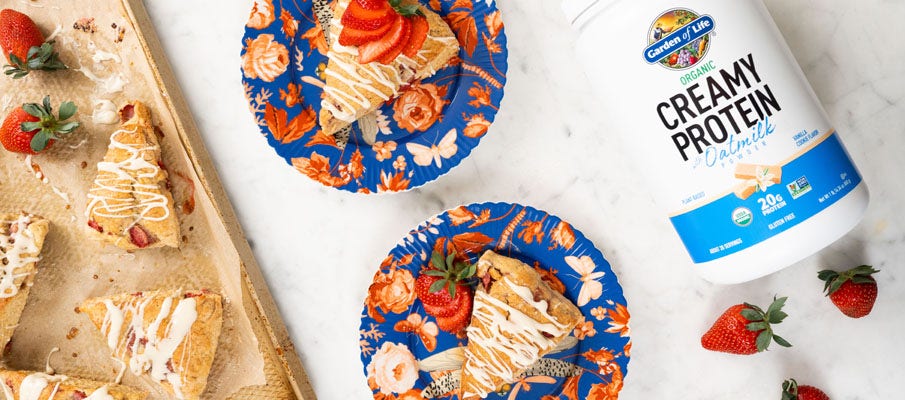 Everything you love about brunch is included in the scrumptious, protein-packed Strawberries and Cream Scones recipe. Filled with luscious, fresh strawberries, grass-fed butter, a little heavy whipping cream, and almond milk, this gluten-free recipe also contains Garden of Life Creamy Protein with Oatmilk powder in Vanilla Cookie flavor—yes, please! All these ingredients (and a few more) come together to make these beautiful scones that are topped with our special protein glaze. It doesn't get any better than this. Not just for brunch, enjoy these Strawberry and Cream Scones for breakfast, dessert, or an anytime delectable bite that is sure to satisfy your sweet tooth while providing a boost of protein.
Serves: 8
Ingredients
Dry ingredients:
2 ½ cup gluten-free baking flour

2 tsp. baking powder

½ tsp. baking soda

¼ cup monkfruit sugar

1 stick grassfed butter, unsalted, cold and cut into pieces

2 Tbsp. heavy whipping cream

1 egg

½ cup whole milk or almond milk

1 cup strawberries, cut into quarters
Egg wash:
1 egg, beaten

1 tsp. water

2 Tbsp. monkfruit sugar
For the glaze:
2 Tbsp. heavy whipping cream

½ cup monkfruit confectioners sugar
Preparation
Preheat oven to 400 degrees.

Line a baking sheet with parchment paper.

Mix together flour, protein powder, salt, baking powder and soda and sugar.

Work butter into mixture, using your hands or two forks until it resembles a course meal.

In a small bowl, whisk together egg, milk, and cream. Add that to the flour and butter mixture and mix with a fork until just moistened. Fold in strawberries. Place dough onto a floured surface and shape into a circle (about 8 inches across).

Cut the dough into 8 equal wedges then carefully place onto the baking sheet, about 2 inches apart.

Brush each scone with the egg wash then sprinkle the tops with sugar. Bake for 18-20 minutes then let cool for 10 minutes.

For the glaze, whisk together the glaze ingredients until smooth then drizzle over the scones and serve warm.