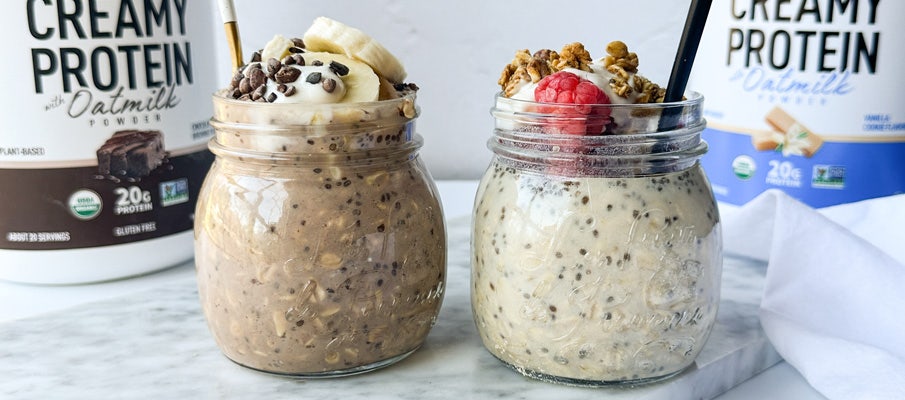 Here's a yummy protein overnight oats recipe that's not only easy to make, it's healthy and nutritious. This Vanilla Cookie Overnight Oats recipe from Chef Gwen will become your favorite go-to breakfast to satisfy your morning hunger—or anytime you want a special treat. Not only is this dairy-free overnight oats recipe delicious, it has the added goodness of Organic Creamy Protein with Oatmilk to give these overnight oats a punch of protein, along with all the other good-for-you ingredients like rolled oats, chia seed, and dairy-free yogurt. So simple to throw together, toss in the fridge overnight, and enjoy!
Serves: 1
Ingredients
½ cup rolled oats

1 tsp. Raw Organics Chia Seeds

1 Tbsp. dairy-free vanilla yogurt

Pinch of sea salt

¾ cup oat milk

Toppings (optional): raspberries, dairy-free yogurt, granola
Preparation
Combine all ingredients in a bowl or jar and stir until well combined. Refrigerate overnight.

Serve chilled topped with raspberries, yogurt, and a sprinkle of granola, as desired.