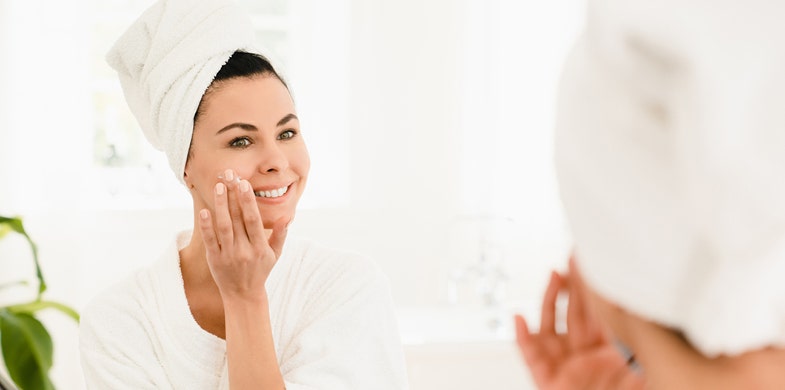 Some healthy advice for the age-old problem of caring for skin in the midlife years.
By the time that most of us start thinking about aging, time is already leaving its marks all over our faces and bodies. But just as it's never too late to improve the signs of aging, it's also never too soon to start taking care of the skin you're in. When it comes to your skin, there's more than meets the eye. Your changing hormones and the loss of face-firming collagen affect what you see in the mirror. But today is a golden age in aging. New advances are transforming age-old thinking, just as they're transforming midlife skin by replenishing its youthful beauty. It's time to face the truth about what's happening to your skin during the midlife years, then take a look at the age-stopping, eye-popping ways to make a beautiful difference.
Aging is More Than Skin Deep
Mirror, mirror on the wall, what's affecting your skin most of all? It's not your fault, it's your hormones. As you start entering menopause in your forties and fifties, your hormones begin to fluctuate. Your levels of estrogen and progesterone rapidly go down, which causes the youthful plumpness, smoothness, thickness, and elasticity of your skin to do the same. Pretty soon, you're faced with lines, wrinkles, sagging, hollows, and loss of volume that affect your appearance and self-esteem. In addition, dwindling levels of testosterone cause your skin to become drier and thinner, which only makes the signs of aging look worse.
A Full Look at the Collagen Connection
Hormones aren't the only things not being produced during menopause. After the age of thirty, your body also stops making as much collagen as it did when you were young. Collagen is a protein that forms the connective tissue in your skin. It helps maintain the youthfulness, fullness, firmness, smoothness, volume, and bounciness of your skin, especially around the cheeks, jawline, and neck. Without an ample supply of collagen, your skin lacks the structural support to maintain its youthful beauty.
A Healthy Approach to Caring for Midlife Skin
There's only so long you can bury your head in the sand and ignore the signs of aging. Whether you're in your thirties, forties, fifties, or older, it's time to face it and fight it head on! Though it may sound old-fashioned, the ultimate beauty secret during the midlife years is simply taking care of your skin. Try these midlife skincare tips to discover a new age of beautiful skin:
See the light about sun protection – As one of the best and brightest ways to slow the signs of aging, apply a sunscreen with SPF 30 and broad-spectrum UVA and UVB protection daily before going outdoors. And protect yourself from head to toe by wearing sunglasses, wide-brimmed hats, long sleeves, and pants whenever you're in the sun.

Care about your skincare – Good-looking skin starts with good skincare. Begin by gently washing your face with a mild cleanser morning and night. Then, apply a moisturizer with antioxidants to hydrate your skin, reduce the signs of aging, and fight skin-damaging free radicals.

Quit smoking – Smoking is an ugly habit. It causes what's known as "smoker's face," which is a dry and dull complexion, premature lines and wrinkles, an older appearance, and sagging skin due to a loss of collagen,
Get enough beauty sleep – Sleep gives your body time to repair skin damage from UV exposure, reduce the appearance of lines and wrinkles, and rebuild face-firming collagen.

Scoop up a collagen supplement – Speaking of collagen…with your body making less of this skin-plumping wonder as you age, you need to do more about it! Replenish your body's collagen supply by taking a high-quality collagen supplement. Select a supplement made from the cleanest, hormone-free, non-GMO collagen sources. Supplements are available in scoopable powders and tablet form.
No matter your age or stage of life, it's time to start taking care of your skin because beautiful skin never gets old.