NSF Gluten-Free Certification
NSF International completed a survey of nearly 1,000 American consumers and found that 68 percent don't realize dietary supplements could contain gluten. Wheat is often used as a filler in dietary supplements. This is why it is important to look for "gluten-free certified" products that undergo robust auditing, testing and certification. NSF International has a science-based gluten-free certification program and has tested and certified 73 different dietary supplements, including probiotic products.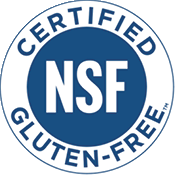 Known as "The Most-Trusted Name in Food Safety™" and recognized by regulatory agencies at the local, state, federal and international levels, the NSF certification mark signifies that the product complies with all standard requirements.

The NSF Gluten-Free Certification ensures that companies have a gluten-free compliance plan and undergo onsite inspections of their production and handling facilities, during which time accredited inspectors test products to confirm gluten-free integrity of 20 parts per million (ppm) or less, while ongoing audits verify that procedures are in place to prevent contamination or commingling.

In addition, the inspector verifies that the company is conducting the appropriate raw ingredient testing or that raw ingredients are being sourced from an NSF International certified gluten-free supplier.

To learn more, please visit: www.nsf.org
---
Gluten-Free Certification Organization
The Certified Gluten-Free logo represents the independent verification of quality, integrity and purity of products all held to the strictest gluten-free guidelines.

The Gluten-Free Certification Organization (GFCO) requires the following:

All ingredients utilized in GFCO certified products are required to go through a stringent review process of approval. All ingredients must contain 10 ppm or less of gluten.

Barley-based ingredients are not allowed in GFCO certified products. GFCO requires ongoing testing of finished products and high-risk raw materials and equipment.
All manufacturing plants producing GFCO certified products undergo, at minimum, an annual inspection and are required to submit finished product testing on a regular basis for review.

Compliance with all government regulations for allergens, gluten-free labeling and Good Manufacturing Practices are required.

GFCO is not a substitution for meeting the legal requirements set by a government.

GFCO standard is stricter than Codex, USA, Canada, the EU and many other country standards for labeling products gluten-free.
To learn more, please visit: www.gfco.org