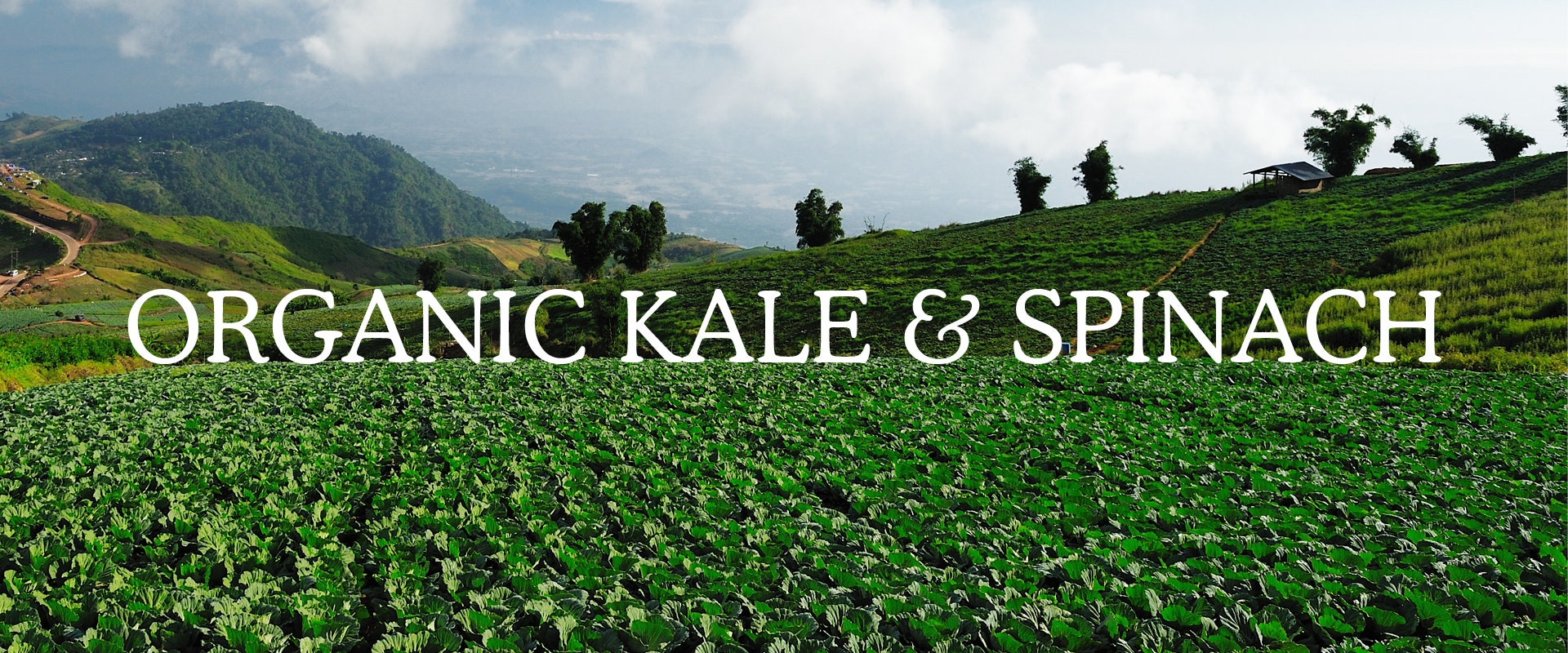 Organic Kale & Spinach Farm
By Jeffrey Brent Brams, Esq. GC & VP Product Development, Science and International
We live in a planned community—lots of houses on postage stamps of land clustered together with a community mail room to make it easier for the postman to deliver in our high density-hood. Despite what it sounds like, it's a nice place to live and the type of place where my kids ride their bikes, play football, swim all day and bring friends with them when they come in for dinner, it's usually with a few-friends in-tow.
We just don't have any land; no one around us does. Even the largest homes in our part of town sit on less than an acre.
That's why I was thrilled to take my wife, three boys (ages 11, nine and seven) and my daughter (also seven; yes, they're twins) with me when I visited our farmers in Illinois who've been growing massive amounts of organic kale and spinach for our new proteins. They invited me out to film the final harvest of the season— organic kale—in late October.
We arrived at the farm with temperatures around 50 and windy, which is cold for South Floridians. We looked like snow-people with our parkas and gloves. Our friends–the Van Drunen family who owns this farm–chuckled.
Three generations of Van Drunen family farmers greeted us. Eighty-two-year-old Ed Van Drunen told us how he took over his father's farm when they grew chives and other greens to bring into Chicago on market days. Market shoppers requested new and different greens, and Ed grew them, so the farm kept adding acres.
Ed's son, Jeff Van Drunen, has an advanced science degree, but has dedicated his entire career to the family-farming business. Jeff is a mechanical genius, always seeking ways to improve.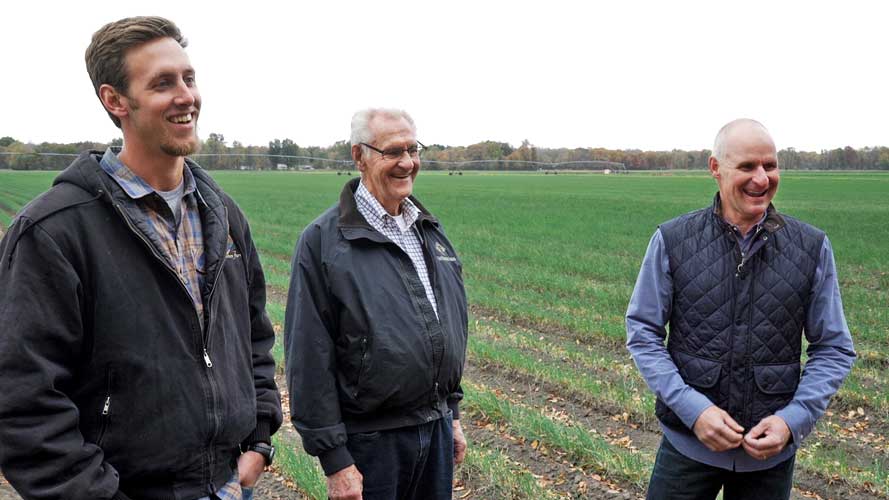 Early on, Jeff explored innovative ways to lock-in the nutrition from freshly harvested vegetables and fruits through flash-freezing immediately after harvest, drum-drying and juicing.
Jeff's son, David, has worked on the family farm throughout college, starting in the "weeding" division and working his way through planting and harvesting. My kids went crazy for David.
Our family "gets" their family—shared commitments to passing along heritage, values and work ethics.
We also "get" family fun, which was evident when they flung the door open on the John Deere® harvester, inviting my daughter to ride inside for the first harvest of curly organic kale. My boys were green with envy, and, eventually, they all got a chance to "drive" the massive piece of equipment. The kids also got a chance to ride in the truck where freshly harvested kale was loaded.
We followed the kale straight from the field to a building adjacent to one of their farm parcels, where the equipment is that Jeff designed for flash freezing. It's an incredibly clean facility with tight controls, so my entire family had to dress in white lab coats, hair nets, booties over our shoes–the whole deal.

Have you ever seen a truck load of organic kale go from harvest to instantly freeze-dried? Me, either. Here's a very simple explanation of what happened: approximately 30 minutes after harvest, the organic kale got a triple-wash with purified water at the loading door. It was then loaded onto a belt that air-dries the kale and moves it directly into a room the size of three of semi-trailers, where the organic kale is instantly blasted with air so cold that literally freezes the kale through in the flash of an eye—"flash-freezing."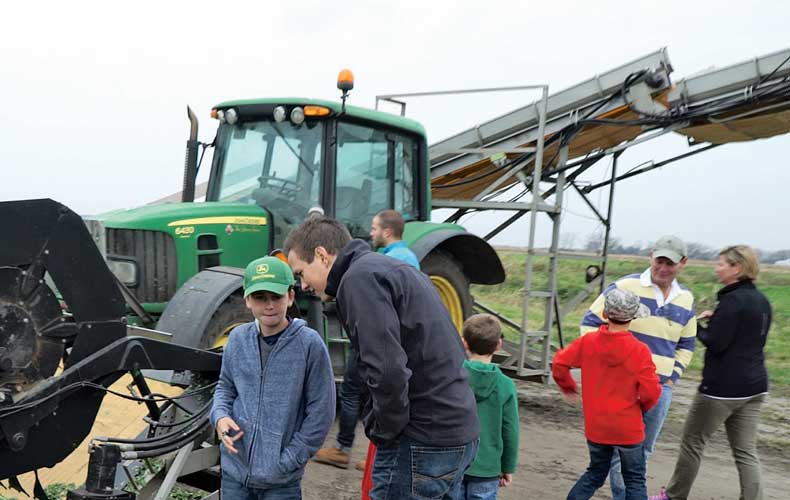 The freezing dries the water out of the kale so what's left is a frozen, dehydrated leaf with all of its nutrients—antioxidants; vitamins including high amounts of Vitamins K, A, C, and B6; minerals including manganese, calcium, potassium and iron; and most interesting for us—high concentrations of naturally occurring nitric oxide—all of which gets immediately locked in.
Once the organic kale has been freeze-dried, a machine that reminded me of a big mixer turns it into a rich, dark-green powder. That's the organic kale that will be shipped out within a few weeks (after testing for purity) to be blended in Garden of Life® products.
We spent the rest of the day doing "farm stuff." We ate lunch—made up of lots of freshly harvested veggies. We played in the muddy fields. And David, along with one of our new friends working with Garden of Life, who competes professionally in "Top-Shot" style competitions, took us to an abandoned corn field for some range practice.
During our visit, David Van Drunen gave my 11-year old boy his John Deere hat, which has become one of his treasures.
About a week after we returned, my kids and I were talking as we shopped together in Whole Foods, hanging out in the whole body aisle "inspecting" the Garden of Life formulas on the shelves. We discussed the idea of traceability. I explained to them how important it is to know where your farmers grow your ingredients, and to make sure they're all audited by reputable third parties, including Organic certifiers and the Non GMO Project
Frankly, my kids don't get it. My kids think it's normal to have friends such as the Van Drunen farm family. In their simple, child-like views, they believe that everybody selling a product in a place such as Whole Foods should be able, at any time, to visit the fields and see their products being grown in an organic field.
Actually, they're right about that. Maybe they do get it.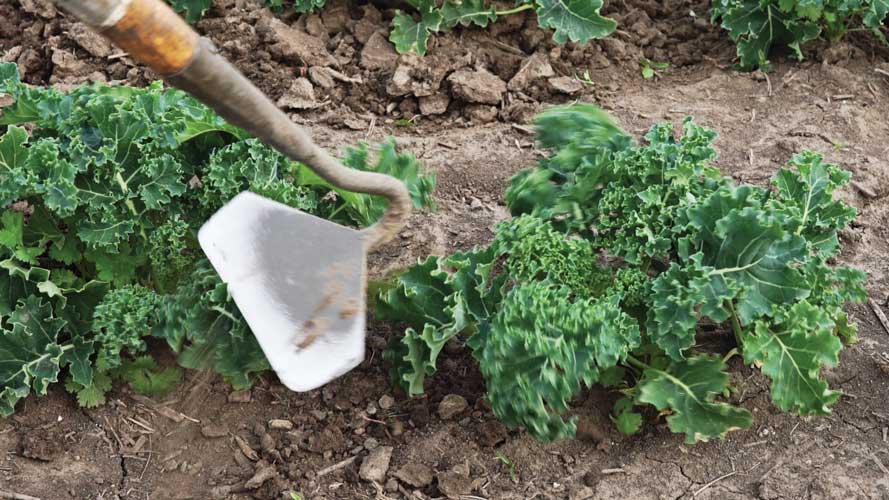 Jeff Van Drunen Organic Movement