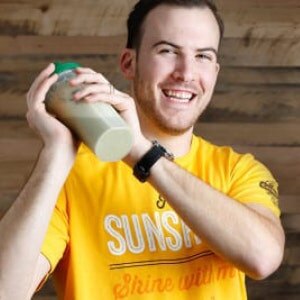 Travis Lesperance
Regional Educator
Travis Lesperance holds a Bachelor of Science degree in Human Nutrition from Arizona State University, and he is a seasoned veteran in the Natural Foods Industry. He has extensive knowledge of the science and application of nutrition and supplementation. Focusing on the philosophy of nutrition, Travis is first and foremost concerned with the incredible amount of cultural and genetic diversity that exists within human populations, and the necessity to apply nutrition and diet accordingly to achieve health. Travis has also overseen the designing and utilization of food-based nutritional supplements, while developing strategies for individuals and athletes who have been pursuing a variety of different health goals. Travis genuinely enjoys sharing his passion of nutrition and health with others so that they may lead fuller, more active lives.
Travis' Q & A:
Current Location: Phoenix, Arizona
Hometown: Born in Thousand Oaks, California, but raised in Scottsdale, Arizona
Education/Credentials: B.S. in Human Nutrition, Arizona State University
When did you join Garden of Life? March 2014
What are some of the highlights in your career? Getting my diploma, training for and competing in various athletic contests, working for Garden of Life
Significant Others: Recently married to my beautiful wife Haven and now have a child (boy) on the way (September)
Favorite Garden of Life Products: Raw Fit original, VC K Complex, myKind Men's, Perfect Food Raw Energizer, Minami Platinum, Raw Probiotics Ultimate Care
What is your personal nutrition philosophy? I believe that nutrition and diet are, in essence, instrumental virtues and a means towards the development of the natural virtues of health and wellbeing; and that humans are unique in using these means from a population level to an individual level and to a developmental level. Nutrition and diet are personal, and with that being said, it is critically important to address our food production, preparation and consumption methods in light of our unique and individual needs to be able to apply diet and nutrition most optimally towards the development of our health and well-being.
What are some of the staples in your grocery basket and pantry? Grass-fed heavy cream and butter, raw goat's milk, free range rggs, rotisserie chicken, anything green and, of course, organic, if its available.
What is your favorite meal? 2 strips bacon, 2 eggs, sweet potato hash, with a side of roasted Brussels sprouts
How do you stay fit? Over the years, I've shifted interests from doing powerlifting, to endurance and long distance, to Olympic lifting. Injuries have kept me from continuing in these in any competitive way, but they taught me a valuable lesson in the process. I've come to appreciate the value of mobility, and I find myself doing more mobility work than actual training these days.
What sports team(s) do you follow? My favorite team since a very young age has been the Detroit Lions, which I feel is a cruel irony, considering their dreadful history. Other than that, I enjoy watching college football and the USC Trojans, as well as the Lakers in the NBA.
Where is your favorite vacation spot? I love the countryside, the desert, and anywhere that is far away from urbanization. Northern Arizona is a great place to go camping and unwind, and is a place I try to spend time every year.
Fun facts about yourself: I like to work on projects, and often feel the need to tinker with things to understand what makes them tick. I am a natural human guinea pig, and like to press the limits of my own abilities for better and, as a consequence, for worse sometimes. I enjoy driving on road trips, and the peaceful silence that comes with long drives across the desert or through the mountains.