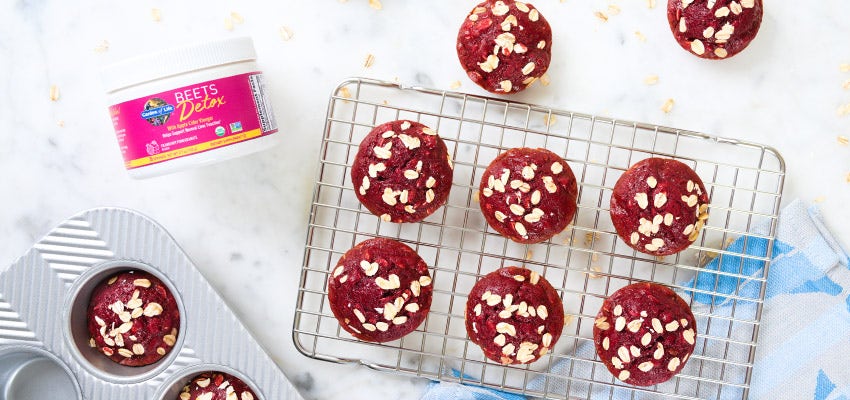 Makes: 12
Dry Ingredients:
1 ½ cups gluten-free flour
½ cup coconut palm sugar
½ cup gluten-free quick rolled oats (plus more for coating)
2 Tbsp. Garden of Life Beets Powder (Beauty or Detox)
2 tsp. baking powder
1/8 tsp. salt
Wet Ingredients:
2 eggs
2 Tbsp. melted coconut oil or vegan butter
¼ cup maple syrup
½ cup almond or oat milk
½ cup apple sauce
Coconut oil spray for coating the muffin tin
Preparation:
Whisk together all dry ingredients and set aside. Next, in a separate bowl, whisk together the eggs, then add in the rest of the wet ingredients and whisk until well combined. Combine the wet ingredients into the dry ingredients and mix until well combined. Spray the muffin tin with coconut oil and put equal amounts of batter into each cavity then sprinkle oats on top of each. Bake 20-22 minutes, let cool, then enjoy or store in refrigerator for up to one week or in freezer for 2 months.