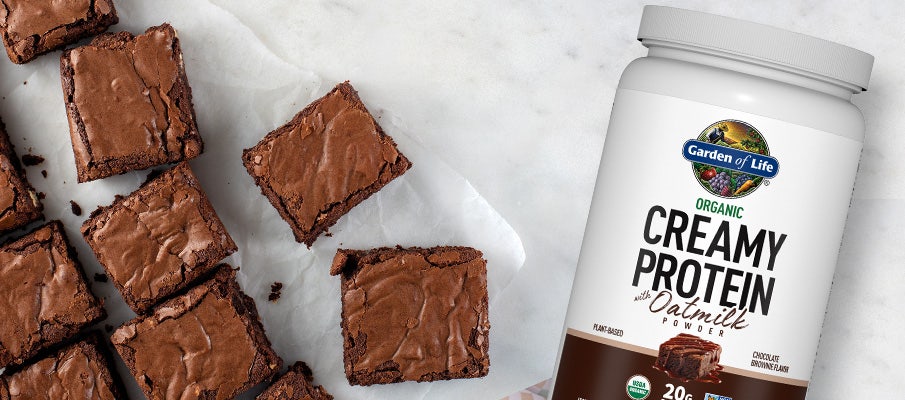 Need an idea for dessert? Try this yummy Chocolate Chai Brownie Thins recipe with an added boost from Garden of Life Creamy Protein with Oatmilk.
Serves: 12 brownie thins
Ingredients
Wet ingredients:
¼ cup almond butter

½ cup coconut palm sugar

1/3 cup maple syrup

1 tsp. vanilla

2 eggs
Dry Ingredients:
¼ cup oat flour

½ cup cocoa powder

1 tsp. cinnamon

½ tsp. ginger powder

½ tsp. salt

¼ tsp. cardamon

¼ tsp. cloves

¼ tsp. nutmeg

¼ tsp. black pepper

½ cup vegan chocolate chips
Preparation
Preheat oven to 325 degrees.

Whisk together all wet ingredients except eggs. Once wet ingredients are mixed together and resemble caramel, add in eggs.

Whisk together dry ingredients then slowly add into the wet ingredients until well incorporated then fold in chocolate chips.

Line a square (8x8) brownie pan with parchment paper then grease the parchment paper with vegetable spray or coconut oil. Pour brownie batter into pan then bake for 30 minutes.

Let brownies cool before serving.