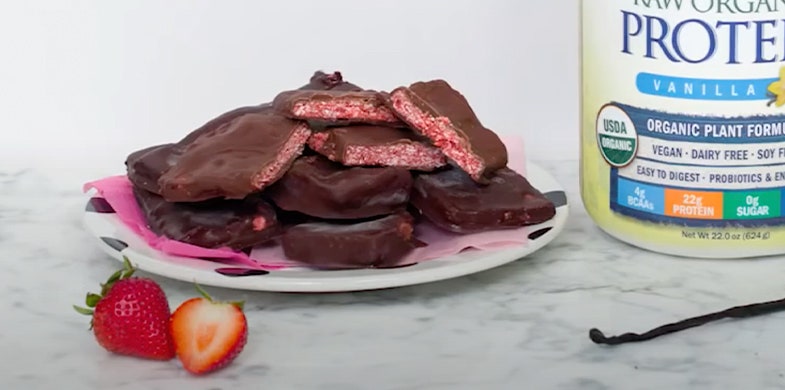 Who doesn't love the combination of chocolate and strawberry? These delish snack bars have the added punch of Raw Organic Protein to make this an awesome, healthy treat!
Yields 6 Large Bars or 36 Small Bites
Ingredients
Use Organic if possible
2 ½ cups freeze dried strawberries

1 cup coconut flakes

¼ cup coconut cream or coconut milk

½ vanilla bean or 1 teaspoon vanilla extract

1 Tbsp Garden of Life Coconut Oil

½ lb. dark chocolate (55-70% dark chocolate works best) plus 1 Tbsp Coconut Oil
Preparation
Place protein powder, strawberries, coconut flakes and sea salt into food processor.

Cut vanilla bean lengthwise, scrape out insides and add to food processor or use one teaspoon of vanilla extract.

Process until well mixed then add the coconut cream and coconut oil and process again until batter is thick and sticking together.

Press batter into a parchment-lined small brownie pan and refrigerate several hours to harden.

Once batter is solidified, cut protein bars into 8 rectangles.

Heat up a double broiler and add chocolate and coconut oil.

Stir chocolate chips until they are all melted then dip each protein bar into the chocolate and coat well.

Place protein bars onto a parchment-lined cookie sheet and store in the refrigerator for 4-to-5 days or in the freezer for up to one month.