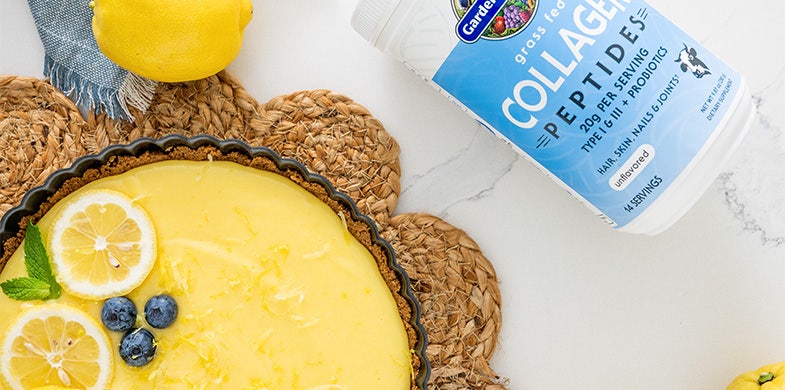 Lemon, tangy, sweet, all the things our tastebuds love, all wrapped up in this Collagen Lemon Tart recipe. Don't let the beauty of this treat fool you, it takes just 8 ingredients and is loaded up with the goodness of Collagen.
Serves: 4-6
Ingredients
Use Organic if possible
Crust:
Filling:
3 eggs

½ cup butter (grass-fed or vegan butter) cut into small cubes

½ cup lemon juice

2 Tbsp. lemon zest

2 scoops Garden of Life Collagen Peptides

¾ cup monkfruit sweetener or sugar substitute of your choice
Toppings:
Sliced lemons, blueberries, blackberries, and/or mint leaves


Preparation
To make the crust, break up graham crackers and place them in a food processor using the "s" blade along with the coconut oil. Process until the crackers are sand-like texture then press into the tart pan and bake at 350 for 7 minutes.

To make the filling, first add sugar, eggs, lemon zest and lemon juice in a glass bowl and whisk together.

Place glass bowl over a pot (double broiler) of simmering water and whisk continuously for 7-10 minutes, until the texture is similar to thick pudding. Remove from heat and immediately strain mixture through a strainer. Discard the lemon zest.

To make the custard, add in collagen peptides and butter (about 1 Tbsp. at a time) and whisk continuously. Place custard into the refrigerator for 30 minutes before pouring into crust. Once you have poured the custard into the crust, place it back into the refrigerator again for several hours before garnishing with fruits and mint.

Tart lasts 2-3 days refrigerated.