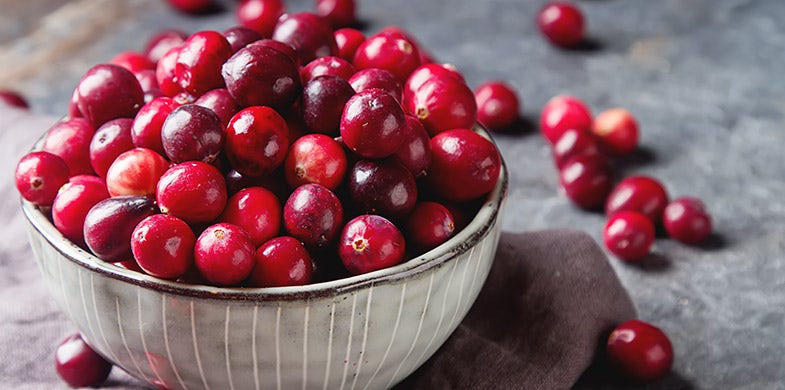 Let's talk turkey. . .cranberries may be a highlight of Thanksgiving dinner, but these sweet and sour berries are good for more than a saucy side dish or refreshing glass of juice. Cranberries are bursting with so many antioxidants, phytonutrients and vitamins that they're actually considered a superfood with many disease-fighting powers that offer protection against a number of infections and diseases. Cranberries are harvested in the fall, when they're found fresh in the produce aisle. But these berries are also available frozen, canned, dried and as juices year-round. Their tart and tangy flavor makes them wonderfully addictive, so see how they hit the sweet spot between healthy and delicious.


Protection from Urinary Tract Infections

Ladies, let's raise a glass to these zesty berries! While tens of millions of women each year get a urinary tract infection, one of the best ways to prevent the problem is by drinking cranberry juice. That's because cranberries are brimming with an antioxidant known as proanthocyanidins, or PACS for short. These PACS prevent bacteria from sticking to the walls of your uterine tract, which helps lower your chance of infections.


May Help Fight Cancer
Remember those PACS? It's been shown that they're also packed with cancer-fighting power. Studies have found that the nutrients and antioxidants in cranberries may help slow the growth of tumors. Additional research has shown that consuming cranberries can have a positive effect on breast, prostate, ovarian and liver cancers.


Increases Your Immunity

Coming down with a cold? If you usually reach for an orange to boost your immunity with vitamin C, you'll be better off picking cranberries instead (or in addition). Just one cup of cranberries is packed with around 20% of your daily requirement of vitamin C, which helps support a healthy immune system, so your body can fight back.


Keeps Your Heart Healthy

One of the best reasons to take these juicy berries to heart is because they're actually good for yours. According to research, cranberry juice can increase your HDL "good" cholesterol, while reducing your risk of heart disease by lowering your blood pressure and decreasing inflammation.

Improves Your Dental Health

As you can see, cranberries offer plenty to smile about, including their ability to help prevent gum disease. How? Look back to those PACS, which prevent bacteria from sticking to surfaces, including your teeth and gums. This reduces your risk of developing gum disease and cavities.

How to Pop Cranberries into Your Diet

These ruby-red berries sparkle in all kinds of meals and snacks, so try out these tasty ideas:


Toss dried cranberries into a salad, stir-fry or trail mix
Blend frozen berries into smoothies
Pour a glass of pure cranberry juice
Serve a side of cranberry sauce with dinner
Mix cranberries into quinoa or rice as a savory side dish
Bake fresh or dried berries into muffins, breads and pancakes
Sprinkle a handful of berries over yogurt, oatmeal and popcorn
Spread cranberry sauce on a sandwich
Stir cranberries into salsas and guacamole
Add berries to chicken, turkey and pork dishes


Since cranberries are bursting with such an addictive, tangy taste and so many disease-fighting nutrients, you'll want to relish them all year long.