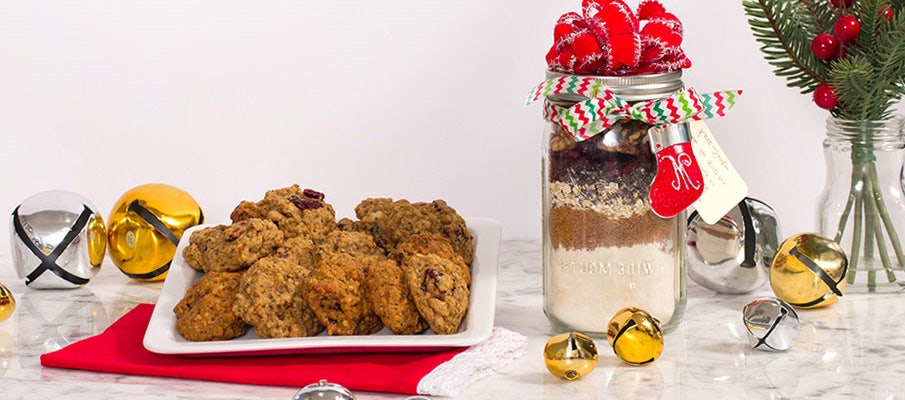 Whether you're in need of a last-minute gift or a healthy holiday cookie recipe, these Mason Jar Oatmeal Cookies won't disappoint.
Serves: 3 Dozen Cookies
Ingredients
Use Organic if possible
1 large Mason jar

2 cups gluten free all-purpose flour

1½ cup gluten free quick oats

1¼ cups coconut palm sugar

1 cup chopped walnuts

1 cup dried cranberries

¾ tsp baking soda

¾ tsp sea salt
Preparation
Mason Jar:
First combine flour, protein powder, salt and baking soda then pour into the Mason jar to create the first layer.

Next add the sugar, then the oats, then chia seeds, then cranberries and finally the walnuts.

Cover Mason jar with lid and tie a ribbon around the rim with the directions.
Cookies:
Preheat oven to 375 degrees.

Beat together 2 eggs and 1 cup of melted coconut oil.

Next, pour contents of Mason jar into the egg/oil mixture and mix until well incorporated then add 1/3 cup unsweetened almond milk and mix again until batter is moist and malleable.

Spoon out about 2 Tablespoons of batter for each cookie and place on cookie sheet.

Bake 8-10 minutes.