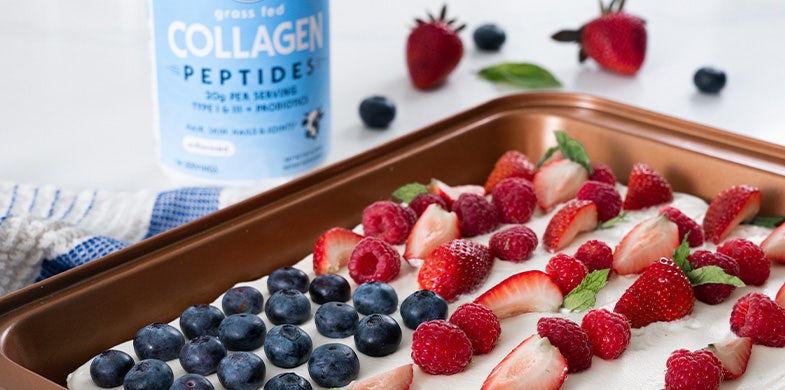 Whether you follow a keto lifestyle or not, you will absolutely love this patriotic keto cake recipe - plus, it's loaded with Garden of Life Collagen Peptides for a healthy twist.
Serves: 6-8
Ingredients
Cake:
1 ½ cups almond flour (superfine)

½ cup coconut flour

2 tsp. baking powder

¼ tsp. sea salt

¾ cup grass-fed butter

1 cup monkfruit sweetener

4 eggs

1 tsp. vanilla extract

½ cup milk or non-dairy milk
Frosting:
2 cups heavy whipping cream

1 cup Swerve Confectioner's Sugar

8 oz. cream cheese

1 tsp. vanilla extract
Blueberries and Strawberries for decorating


Preparation
To make cake, whisk together the flours, peptides, baking powder and sea salt and set aside.

Cream together (using an electric mixer) butter and sugar until fluffy, then add in eggs one at a time and beat well. Add in milk and vanilla until well combined. Add in the dry ingredients and beat until creamy.

Grease a 9x12 baking pan with coconut oil or butter, then pour batter in and spread evenly.

Bake at 350 for 28 minutes then let cool.

To make frosting, first place a glass bowl and metal beaters in the freezer for 20 minutes or longer. Then place room temperature cream cheese and sugar in cold bowl and beat around 3-4 minutes. Add in heavy whipping cream and beat again for about 8 minutes (until texture is thick and creamy). Add in vanilla and beat for another 30 seconds.

Spread frosting (you will have extra) on cake then decorate with strawberries and blueberries.

Cake lasts 2-3 days refrigerated.