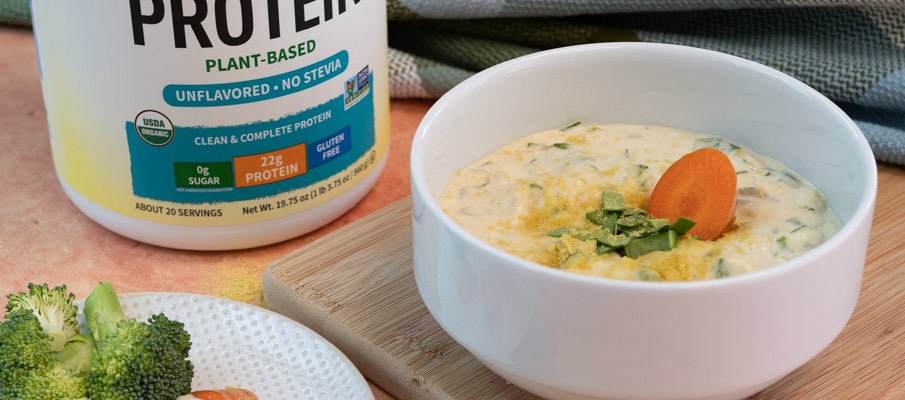 Here's a Vegan Spinach Dip recipe that is not your run-of-the-mill dipping treat. First and foremost, it includes loads of luscious ingredients like spinach (of course), cashews, onion, garlic, olive oil, and our secret ingredient—Garden of Life Raw Organic Unflavored Protein powder. Yep—this spinach dip has the added goodness of protein! Whether you're vegan or not, you're going to love this spinach dip recipe for all your get-togethers or just when you're in the mood for a healthy snack! Just whip up a batch of creamy, dipping goodness that's not only vegan, but gluten free, dairy free, Keto and Paleo—you will not be disappointed.
Serves: 6-8
Ingredients
1 cup cashews (soaked for 1 hour then rinsed and drained)

1 cup spinach cut into thin strips

½ cup minced onion divided

2 minced garlic cloves

1 cup water

¼ cup extra virgin olive oil

1 tsp. salt

½ tsp. pepper

1 tsp. nutritional yeast powder

2 Tbsp. lemon juice

1 tsp. onion flakes

Remaining ¼ c. minced onion
Preparation
Blend together soaked cashews, ¼ c. minced onion, water, olive oil, salt, pepper, nutritional yeast powder, lemon juice and protein powder until smooth.

Mix in the remaining ¼ minced onion, garlic, onion flakes and spinach.

Serve with carrot sticks and enjoy!