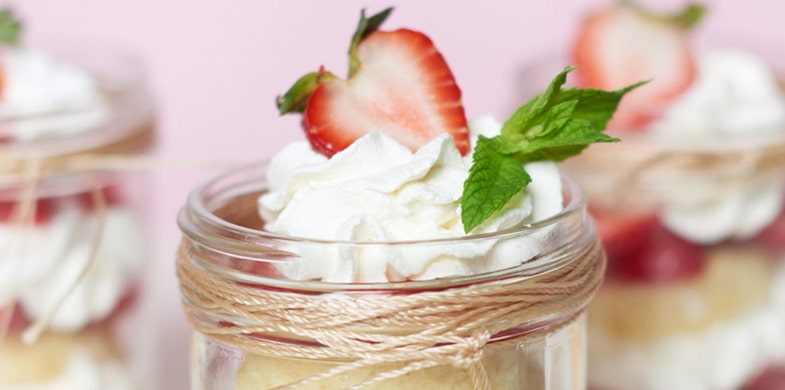 Who doesn't love Strawberry Shortcake? And this strawberry shortcake recipe is vegan, dairy free, gluten free and soy free - Bonus!
Serves: 10-12
Ingredients
Use Organic if possible
Shortcake:
1¾ cups gluten free all-purpose baking flour

1/3 cup organic cane sugar

½ tsp baking powder

½ tsp sea salt

¼ cup Garden of Life Coconut Oil + extra for muffin/cupcake pan

¾ cup unsweetened almond milk

1 Tbsp lemon zest

½ tsp vanilla extract

2 cups sliced strawberries
Whipped Cream:
1 can coconut milk

2 Tbsp organic cane sugar

1 tsp vanilla extract
Preparation
Prep ahead:
Place coconut milk in refrigerator the night before.

Preheat oven to 400 degrees and lightly oil a muffin pan with Coconut Oil.

Measure out ¼ cup coconut oil and place in freezer for about 10 minutes to solidify.

Combine dry ingredients for the shortcakes.

Cut coconut oil into chunks and place in with the dry ingredients and mix into the dry ingredients using your hands until you get a crumbly texture.

Add in almond milk, lemon zest and vanilla and use a fork to mix together (do not overmix).

Fill each muffin cup about 2/3 of the way full (approximately ¼ cup of prepared batter).

Bake for 15 to 18 minutes.
For the whipped cream:
Remove can of coconut from refrigerator and scoop out the solids into a large bowl.

Add only ¼ of the liquid (that will be under the solids) and mix using an electric mixture until you achieve soft peaks (this will take about 5 minutes).

Add in the sugar and the vanilla and mix again for another 2-3 minutes.

Place in refrigerator.
For assembly:
For stacked shortcakes, torte or slice a shortcake horizontally.

Place one half on a plate, add whipped cream and sliced strawberries and then place the second half of the shortcake on top with more whipped cream and strawberries.

Or simply top one shortcake with whipped cream and then strawberries.