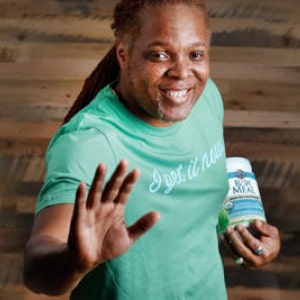 Rexford "Rex" Jones
Regional Educator – Southeast
Rex Jones has been an educator with Garden of Life for more than seven years and brings with him a lifelong passion for the Natural Foods Industry and a strong knowledge of herbals. He began his journey at the age of 15 by picking and identifying herbs in the wild with his mother, and grew more serious about studying herbs as an adult. For more than 10 years, he worked in a natural foods' retail setting as a nutrition manager and herbalist. Rex also led classes, co-hosted a radio show, managed web content and gave a variety of in-store and off-site health lectures. He is excited to share the Garden of Life mission: Empowering Extraordinary Health.
Rex's Q & A:
Current Location: Atlanta, Georgia
Hometown: Redwood City, California

Education/Credentials: Clinical Herbalist
When did you join Garden of Life? Over seven years ago
What are some of the highlights in your career? Sharing the "Extraordinary Health" message in 46 of the 50 states in the United States so far!

Favorite Garden of Life Products: Perfect Food Super-Green, Raw Fit, Mood +, myKind Mens 40, Minami Platinum Omega-3
What is your personal nutrition philosophy? Hybrid Paleo (gluten free, low sugar and lots of good fats)
What are some of the staples in your grocery basket and pantry? Indian and other Asian spices, lemons, avocados, ginger, blueberries, black beans, red quinoa, ghee, raw local honey, red onions, cilantro, organic eggs, coconut cream, coconut milk, goat cheese, coconut oil, free range organic chicken, lamb bacon, plantains, yams and collards, Oregon Pinot.
What is your favorite meal? Dinner? Wood Fire Grilled Rosemary Chicken
How do you stay fit? The gym and meditation.
Who is your nutrition mentor or hero? Dr. Weston A. Price
What do you read? Nutrition-related books, Quantum Physics and Consciousness
What sports team(s) do you follow? UFC, no leagues
Where is your favorite vacation spot? Mt. Hood Forest, Oregon
Fun facts about yourself: Got involved with herbalism around age 15 and make seasonal herbal preparations for family and friends. I started playing guitar and writing songs around five years old, play about a dozen other instruments and played live nationally on NPR in my 20s.