There's a lot to celebrate during the month of October. And while Halloween is part of the festivities, we're focused on our favorite observance: Non-GMO Month.

Non-GMO Month is the Non-GMO Project's biggest outreach campaign. This annual event is part of a powerful movement by retailers and individuals to give us all the right to know what's in our food.

Garden of Life® is the proud leader in dual certification, which includes products that are both Non-GMO Project Verified and Certified USDA Organic. Just 352 of the 32,999 products (1.1%) in the Natural Products Industry are dual certified, and a notable 92 of the 352 (26%) are Garden of Life products.*

Unfortunately, consumer knowledge about GMOs hasn't increased at the same rate as the adoption of GMO crops, according to a 2015 study. So if you're unfamiliar with the world of GMOs, you're not alone. We've condensed all the GMO info into these four need-to-know facts:
THE BASICS

A genetically modified organism (GMO) is a plant, animal, or organism whose genetic makeup has been modified using recombinant DNA methods (also called gene splicing), gene modification or transgenic technology. Crops from GMO seeds can hurt the environment, and they rely on herbicides that could harm consumers. Sadly, most grocery-store food has had its genes altered in one way or another.
THE TOP TIP

To avoid consuming any of these lab-created genes, look for the Non-GMO Project Verified seal of approval. This trustworthy label will be on all products that have been thoroughly tested to be GMO-free.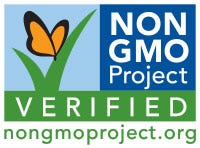 THE CROPS TO AVOID

According to the USDA, genetically modified crops represent more than 90% of the corn and soybean acres planted each year in the U.S. Along with corn and soybeans, Hawaiian papaya, zucchini and yellow squash are also currently grown commercially from GMO seeds. We recommend avoiding these five crops, or checking your local farmer's market for organic or non-GMO options.
THE GOOD NEWS ON GMOS

Big packaged-food companies like Campbell Soup, PepsiCo, General Mills, Mars, Inc., Unilever and Hershey's have decided to label their products on a nationwide basis. Along with the decision to label GMOs, Campell launched their Certified USDA Organic soup line last year, and more recently, PepsiCo introduced organic Gatorade. Cheers to that, and to hoping there's more to come!

Join us in the celebration of Non-GMO Month. We all deserve to know exactly what's in our food.

*According to SPINs data March, 2016

JOIN THE CONVERSATION

What Non-GMO Project Verified products are on your regular grocery shopping list?