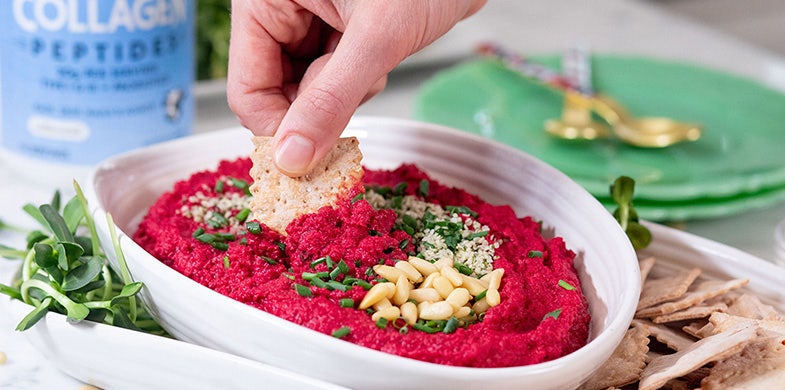 Here's a different take on everyone's favorite...hummus! Chef Gwen gives us her version of Beet Hummus with the added health boost of Collagen Peptides.
Serves: 4-6
Ingredients
Use Organic if possible
2 cups of peeled and cubed beets (plus olive oil, salt and pepper)

1 cup garbanzo beans

1 scoop Garden of Life Collagen Peptides

2 garlic cloves

¼ cup tahini

2 Tbsp olive oil

1 ½ Tbsp coconut aminos

2 tsp lemon juice

½ tsp cumin

½ tsp paprika

¼ tsp salt and ¼ teaspoon pepper
Preparation
Preheat oven to 400 degrees.

Place cubed beets on a large baking sheet and drizzle olive oil on top then sprinkle on salt and pepper.

Roast for 30 minutes, flipping beet pieces over after 15 minutes.

Let beets cool, then add beets and remaining ingredients into a food processor and process until creamy.

Serve with chips, crackers or veggies.

Option: Top beet hummus with chives, hemp seeds and pine nuts.