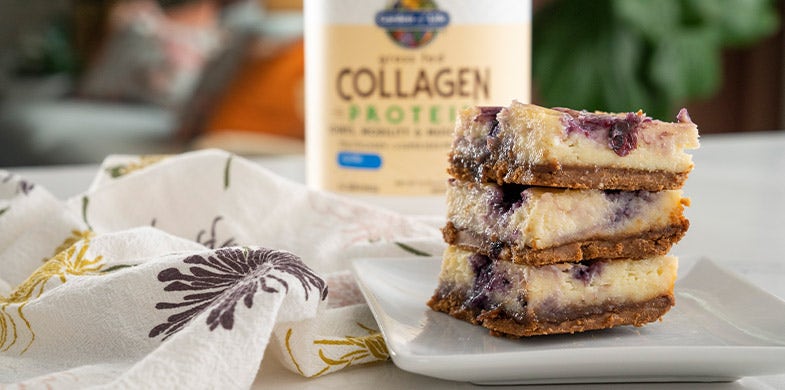 We promise you'll love this delish blueberry dessert bars recipe - we've added a healthy pinch of Collagen Protein to help you get more collagen into your day.
Serves: 9 squares
Ingredients
Use Organic if possible
For the Crust:
7.5 oz pack of gluten-free graham crackers
½ cup blueberries
½ cup monkfruit sweetener
Filling:
2 8oz. packs of cream cheese
2 eggs
¾ cup monkfruit sweetener
Preparation
Preheat the oven to 325 degrees.
To make the crust, break graham crackers and place them into a food processor. Process until graham crackers for about 2 minutes then add coconut oil and collagen protein vanilla and process again until you get a sand-like texture.
Press crumb batter into an 8x8 pan and bake for 8 minutes then let cool.
To make the blueberry mixture, place blueberries and ½ cup monkfruit sweetener into a small pot and heat to medium high, pressing blueberries and stirring constantly for around 5 minutes, until you get a syrup-like texture then let cool.
To make the filling, beat together with a hand-held mixer, the cream cheese and ¾ cup monkfruit sweetener. Add in collagen powder and eggs, beat again until smooth then spread evenly over the crust.
Drop dollops of the blueberry mixture into the cream cheese mixture then lightly swirl with a knife.
Bake at 325 for 50 minutes, let cool then refrigerate overnight.