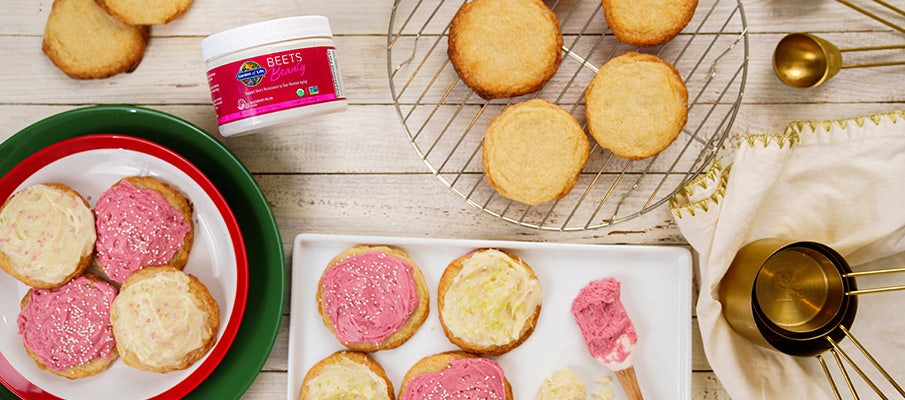 Who doesn't love easy—especially around the holidays? With all the holiday baking going on, it's OK to look for a shortcut—but trust us, these cookies are not short on deliciousness. Chef Gwen offers this Easy Holiday Sugar Cookie recipe that's not only easy, but yummy to boot! A favorite holiday cookie in every household, these sugar cookies have a secret healthy addition in the frosting—Garden of Life's Beets Beauty Powder. That's right, this scrumptious frosting is also feeding your need for more radiant skin and strong hair and nails.†
Serves: 24
Ingredients
Dry:
3 cups flour of choice (gluten free)

1½ tsp. baking powder

1 tsp. salt

1½ cups butter of your choice (can be vegan)

1½ cups sugar of your choice (can be monkfruit)

2 large eggs

1 Tbsp. vanilla extract
Frosting:
1 cup butter of your choice (can be vegan) at room temperature

2 Tbsp. whipped cream cheese (can be vegan cream cheese)

2 scoops Garden of Life Beets Beauty Powder

1 Tbsp. almond milk

3 cup confectioner's sugar of choice
Preparation
Cookies:
Preheat oven to 375 degrees.

Mix together the flour, baking powder, and salt.

Place butter (make sure it is at room temperature) and sugar into a large bowl and use an electric mixer to mix until it is light and fluffy. Add in eggs and vanilla and mix again (on low) until combined. Slowly add in the dry mixture while continuing to mix.

Roll 1-inch balls of the batter then place on a parchment-lined cookie sheet.

Use the bottom of a glass to gently press down on each cookie dough ball until it is about ½ inch thick.

Bake 9-11 minutes then let cool completely.
Frosting:
Using an electric mixer, mix together all frosting ingredients except the beet powder until smooth.

Leave one-third of the frosting white, add the 2 scoops of beet powder to the other 2/3 of the frosting, mix again until the frosting is a pale red color.

Spread frosting on cookies once cookies are completely cooled.