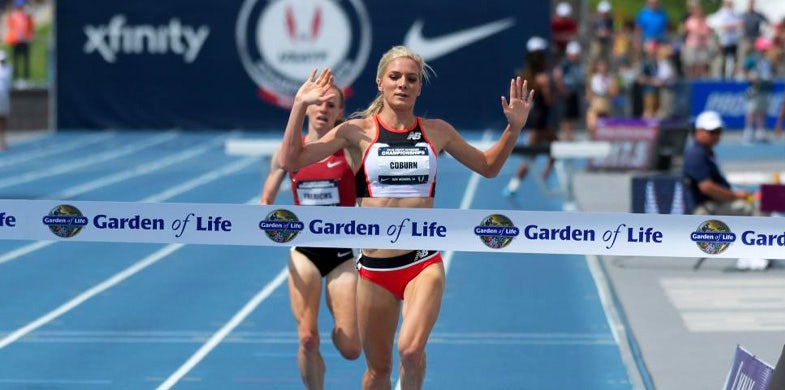 With the Olympics coming up in just a few weeks, we're thrilled to announce our new partnership with USA Track &Field (USATF)! Starting today, Garden of Life is the Official Sponsor of USATF in the protein bar, protein powder, protein shake and probiotic categories with an agreement that extends through 2020. The five-year deal marks our first partnership with a national governing body, and Garden of Life President Brian Ray said he was honored by the opportunity to work with the USATF's elite athletes.

"Garden of Life is proud to be an American company and show our support for all of the members of TEAM USA," said Ray. "We're excited to partner with USATF, and particularly as they prepare for the world's biggest athletic stage. We have a tremendous alignment with USATF because their commitment and dedication to the sport complements our mission of empowering extraordinary health."

USATF is the National Governing Body for track and field, long-distance running and race walking in the United States. It encompasses the world's oldest organized sports, some of the most-watched events of Olympic broadcasts, the country's No. 1 high school and junior high school participatory sport and more than 30 million adult runners in the United States. In addition to the Olympics in Rio, select Garden of Life products will be available at USATF National Team Training Camps and will also be included in USATF National Team kits and athlete lounges. USATF members will have access to exclusive discounts as well.

"We are proud to welcome Garden of Life into our partner family and into the national governing body space," USATF CEO Max Siegel said. "Our partnership will help ensure that our athletes have access to healthy, organic protein, especially during the critical time when they travel internationally with our National Teams." Ray added that Garden of Life has been the protein of choice for triathletes, marathon-runners, weekend warriors and Ironman competitors for years, and this growing group of consumers helped the company skyrocket to become the leading brand for protein powders, meal replacement powders and weight loss powders since 2010. He said that over the years, the company has noticed a growing trend in marketing "clean" proteins and supplements, but the definition of clean is not uniform. He clarified that at Garden of Life, "clean" means products grown organically without the use of toxic pesticides, fertilizers, growth hormones and antibiotic as well as free from genetically modified organisms (GMO's).

"When a product is really clean, it should be verified, certified, and proven clean," Ray explained. "That's why our standard for clean has always been Certified USDA Organic, Non-GMO Project Verified, and Informed Choice Certified clean for sport. We see a huge gap in the current marketplace for products that are intelligently designed to work for the unique goals and needs of SPORT enthusiasts and to also be truly clean enough to give to your family at any age or stage in development. Garden of Life intends to fill that gap with a new line of highly effective, CLEAN products designed specifically for SPORT, available by the start of 2017."

For more information on USATF, visit www.usatf.org.