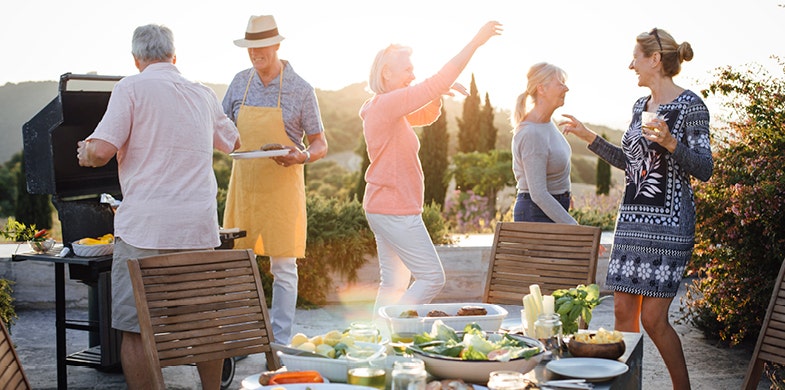 by Tracey Pollack
Do you need a vacation from starving, straining and struggling on yet another restrictive diet? Bid farewell to those quick-fix fads and deprivation diets by discovering a better way of life that actually makes sense. One that satisfies your appetite with a variety of foods you crave. One that's good for your body, your mind and the way you love to live. And perhaps most importantly, one with no rules, no restrictions and absolutely no regrets! The one and only plan you need for a healthy and happy life is the Mediterranean Diet. Explore everything under the sun about the foods and feel-good benefits of the Mediterranean Diet.
Why Everyone Is Heading to the Mediterranean
Everyone loves the Mediterranean Diet because it's really not a diet at all! It's simply a way of eating and living based on the cuisines, cooking and cultures of people living around the Mediterranean Sea. It features a variety of healthy foods and the true pleasures of life, such as sharing meals with loved ones, staying physically active and enjoying that glass of wine. But the benefits go beyond the way you eat to the way you feel. Hundreds of studies have shown the many health benefits it offers, including reducing the risk of heart disease, decreasing inflammation, improving cholesterol levels, increasing longevity, and lowering the risk of Alzheimer's and Parkinson's disease. So unlike those popular diets that eliminate entire food groups and take the joy out of life, the Mediterranean Diet brings good food, good health and good times back to the table.
Take a Tour of the Foods You'll Eat
With so many different countries near the Mediterranean Sea, you have a world of foods and flavors to enjoy. So, gather around the table with family and friends to savor the following foods:
Plenty of vegetables enjoyed raw, steamed or cooked in heart-healthy olive oil.

Whole fruits, which have more vitamins and fiber than juices.

Whole grains like oats, quinoa, brown rice, barley, corn, whole-wheat bread and whole-grain pasta.

Unsaturated fats like olive oil, avocados, nuts and seeds.

Fish and seafood.

Beans and legumes.

Herbs and spices for flavor and variety

Dairy, eggs and poultry in moderate amounts.

Small amounts of red or processed meat.

Sweets on occasion.

Drink water everywhere and every day.

A daily cup of coffee, tea or red wine.
Experience the Mediterranean at Home
Eat a bounty of fruits and veggies – Make fruits and vegetables part of every meal and snack for a world of vitamins and nutrients.

Go with the grain – Get a whole lot of filling fiber and satisfaction by choosing whole grains instead of refined carbohydrates.

Catch more seafood –Eat fatty fish or seafood at least twice a week. If you're not a fan of fish like tuna and salmon, protein powder can help satisfy your protein needs.

Go for the gold standard of fats –Swap extra virgin olive oil for butter and margarine.

Enjoy Meatless Monday any day –Cook more plant-based meals featuring beans, legumes, nuts and seeds.

Do dairy –Enjoy moderate amounts of low-fat and low-sugar yogurt, milk and cheeses for a dose of calcium and protein.

Spice up your life –Add herbs and spices for more flavor and less of a need for salt.

Treat yourself to fruit for dessert – Swap sugary sweets for the natural sweetness of fruit.

Reduce red meat – Take meat off the menu by choosing fish, seafood, poultry or beans instead. When you do eat meat, make it a lean cut and serve it as a side.

Raise a glass – Make water your drink of choice, yet feel free to enjoy a daily mug of coffee, cup of tea or glass of red wine.

Savor every bite – Make eating more of a pleasure by slowing down, dining with friends and family, and enjoying every moment.
A Delicious Day in the Mediterranean
So what's on the menu when on the Mediterranean Diet? If you're used to those rigid diets with only a limited list of foods, the Mediterranean Diet will feel like a much-needed vacation because you're free to enjoy a world of foods based on your tastes and your needs.
Eye-opening Morning Meals
Spoon into a bowl of protein-packed Greek yogurt topped with blueberries and oats. Spread slices of whole-grain toast with your favorite nut butter and sliced bananas. Warm up with a cup of oatmeal piled high with strawberries. Scramble a few eggs with fresh veggies and a sprinkle of cheese. Or whip up a smoothie with frozen fruit, Greek yogurt and a scoop of plant-based, vegan protein powder.
Let's Do Lunch
Sit down to a salad topped with grilled salmon and olive oil dressing. Make a satisfying sandwich by filling whole-grain bread with tuna, tomatoes, lettuce and any other veggies you have on hand. Slurp up a filling and flavorful bowl of lentil or black bean soup with whole-grain crackers on the side. And when time is tight, grab a slice of leftover pizza—preferably with a whole-grain or cauliflower crust—topped with a garden of vegetables.
Snack Attack
When those afternoon cravings come around, don't deny them because you satisfy them on the Mediterranean Diet. Scoop up hummus with whole-wheat pita, grab an apple and handful of nuts, sprinkle trail mix over Greek yogurt or dip veggies into a bowl of guacamole.
Mediterranean Diet Dinners
Have a one-pan plan by filling a skillet with shrimp, snap peas and mushrooms then serving it over couscous. Fire up the BBQ and grill up some cod, asparagus and sweet potato spears. Bake salmon with a walnut crust then serve with a simple salad. Stuff peppers with lentils, spinach, bulgur and a sprinkle of cheese. Craving take-out without the all-out fat and sodium? The Mediterranean Diet makes it a breeze to recreate restaurant favorites at home. Whip up an Italian feast by making eggplant parmesan or whole-grain pasta primavera. Go Greek with fast-to-fix gyros by stuffing whole-wheat pita with hummus, roasted vegetables and grilled chicken. Or create an Asian sensation with a shrimp and vegetable stir-fry served over brown rice.
Sweet Rewards
Rather than reaching for sugary treats, fruit is the sweet way to end the day on the Mediterranean Diet. Try baking an apple sprinkled with cinnamon, popping frozen grapes or blending frozen bananas into a healthy ice cream substitute.
As you can see, it's time to send those trendy diets packing because the Mediterranean Diet is your ticket to healthy living.