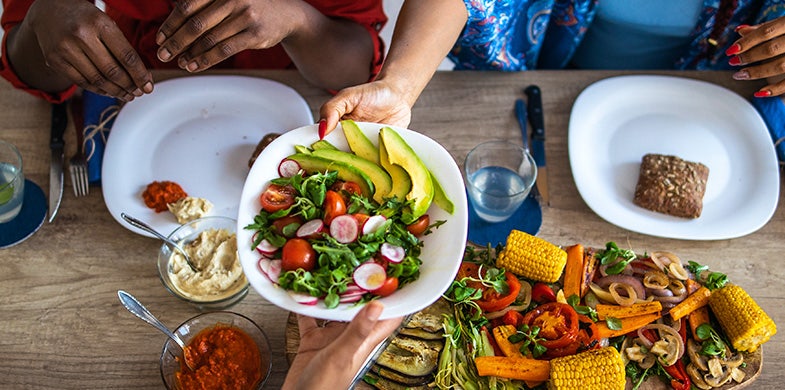 by Tracey Pollack
Do you want to turn over a new leaf by trying a plant-based diet? You're not alone because millions of people have adopted and adapted to this growing nutrition trend. A plant-based diet is a style of eating that's rooted in consuming more or only foods that come from plants. Some see it as becoming vegan or vegetarian by avoiding all or most animal products, while others simply view it as eating more plant-based foods while still enjoying meat, seafood, eggs and dairy. Yet plant-based eating isn't right for everyone, so check out whether putting more plants on your plate will feed your body's needs and appetite for better health.
The Good in this Good-for-You Diet
When a plant-based diet focuses on healthy, whole foods rather than processed products, it can be good for you and the planet. Whole plant foods are full of fiber and water, which fill you up without filling you out so you're able to manage your weight. And focusing on plant-based foods, avoiding processed products and limiting refined sugars provides antioxidants and phytonutrients that help lower your blood pressure, along with your risk of heart disease, breast and colon cancers, stroke and diabetes. The healthy benefits extend to the health of the environment since eating plant-based foods reduces the impacts of climate change and cuts down on animal suffering.
The Recipe for Plant-Based Eating
So what's for dinner—and breakfast and lunch!—on a plant-based diet? While fruits and veggies may immediately come to mind, they're just the beginning of the endless choices when meat isn't the main course. Plant-based eating stems from the following types of foods—and be sure to always choose Certified Organic:
Vegetables such as broccoli, spinach, potatoes, mushrooms and carrots.
Fruits including apples, pears, berries, bananas, avocado and jackfruit.
Whole grains like rice, whole wheat, quinoa, farro and amaranth.
Legumes ranging from chickpeas and lentils, to edamame and peas.
Nuts like walnuts, almonds, cashews and pistachios.
Seeds such as chia, hemp, sunflower and flaxseeds.
Soy from tofu, soybeans and tempeh.
Plant-based dairy from almonds, soy, oats, coconut, cashews and hemp.
Branch Out to Get Enough Protein
The main concern about plant-based diets is that they don't provide enough muscle-maintaining protein. But both nature and today's grocery stores are full of plant-based products packed with protein, even if you're a full-fledged vegan. Most veggies contain at least a few grams of protein, from mushrooms to broccoli and potatoes. But the most plant-based protein is found in some foods that may be new to you, such as legumes like lentils and chickpeas, ancient grains like quinoa and farro, nuts like walnuts and almonds, and seeds such as chia and hemp. Beyond the field, plant-based meat substitutes like tempeh and seitan, along with plant-based organic protein powders and dairy products, can help you get enough protein when it's just another meatless Monday!
Supplement Your Diet
While it's easy to find delicious and nutritious plant-based foods, it can be hard to get certain nutrients when dairy, fish and meat are off the menu. To meet your nutrient needs, consider supplements. Start with a plant-based, organic protein powder—a sure way to increase your protein intake. Then a whole food multivitamin full of vitamins and minerals. Since iron is harder to absorb from plants than meat, try an iron supplement, too. While vitamin B-12 is a must for healthy cells and abundant in animal products but found in few plant-based foods, take a B-12 supplement or choose cereals and plant-based milks fortified with the vitamin. Omega-3 fatty acids are overflowing in fish, seafood and eggs, yet take the body longer to convert from plant-based sources like walnuts and flaxseeds, so add an omega-3 supplement to keep your brain and body at their best.
A plant-based diet focused on healthy foods offers many benefits, but isn't right for everyone. So whether you make meat a memory or keep it a mealtime mainstay, try eating more wholesome, plant-based foods to sow the seeds of better health.