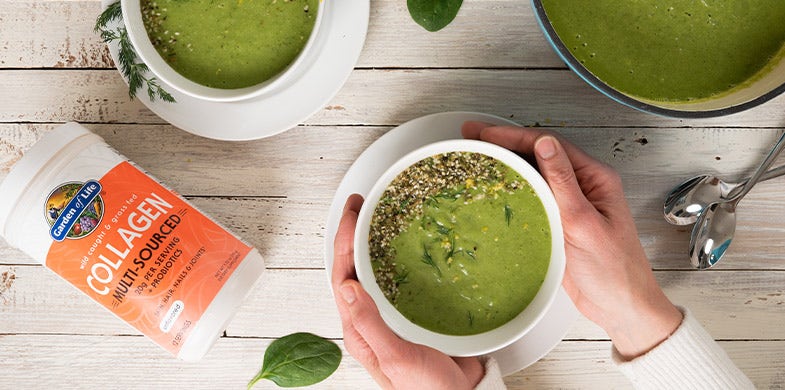 Here's a delicious Green Spring Soup recipe, perfect for springtime - it's full of nutritious goodness, loaded with collagen using our multi-sourced collagen, but you can use any unflavored Garden of Life collagen.
Serves: 6
Ingredients
Use Organic if possible:
1 leek (white part only)

1 yellow onion

3 Tbsp. olive oil

2 zucchinis, sliced

8 cups spinach leaves

2 garlic cloves

8 cup vegetable broth

2 tsp. sea salt, divided

½ tsp. black pepper

2 Tbsp. fresh dill plus more for garnishing

1 large avocado (ripe)
Preparation:
Slice white part of leek (don't use the green part). Dice onion.

In a large pot, heat olive oil to medium and then add the leeks and onion and 1 tsp. of salt. Sauté for about 10 minutes.

Add in zucchini and garlic and cook for another 5 minutes.

Add in spinach leaves, cook until leaves have shrunken in size, then add in broth and simmer on low for 20 minutes.

Remove from heat, add in collagen powder, 1 tsp. salt, pepper, avocado, and dill. Blend with an immersion blender or regular blender (you will need to do two batches if using a regular blender).

Return to pot to keep warm until serving. Garnish with dill. Store in refrigerator for 5 days or in freezer for 2 months.