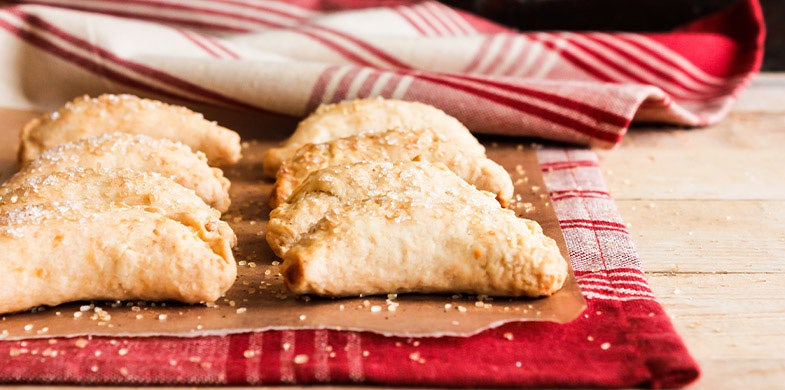 2 packages of frozen pie crusts (4 total pie crusts—can be gluten free, or homemade crust)
6 cups (about 3 lbs.) of peeled, cored and chopped apples
1 cup coconut palm sugar
3 Tablespoons cornstarch
1 scoop Garden of Life Collagen Peptides Turmeric
1 Tablespoon lemon juice
½ teaspoon cinnamon
Dash of salt
Egg wash:
1 egg yolk whisked together with 2 Tablespoons almond milk
Sprinkle:
2 Tablespoons coconut palm sugar and ½ teaspoon cinnamon (mix together with a fork)
Makes: 8 pies
Preparation:
Toss chopped apples with lemon juice and set aside. Add coconut palm sugar and cornstarch into a large pot and turn on medium low heat while stirring together for just a minute. Add in the apples, collagen, cinnamon and salt. Stir mixture consistently for about 20 minutes, until apples are tender and mixture is thickened. If you need to add a tablespoon of water or so along the way to keep the mixture from sticking to the bottom of the pot, go ahead and do so. Remove apples from heat and let cool. To prepare the crusts, take them out of the freezer and let them get close to room temperature, or at least warm enough to roll out. First, mold one pie crust into a ball with your hands (make sure to have some extra flour on hand for the counter and rolling pin). Next, roll the pie crust into a large rectangle using a floured rolling pin, then cut in half to form 2 rectangles. Place about 2 tablespoons of filling onto the lower half of each rectangle then wet your fingers and fold the upper half down over and press down. Press edges down and secure with a fork then place on a parchment-lined cookie sheet and refrigerate while you repeat the process for the next 6. Brush each pie with egg wash and sprinkle with sugar mixture, then make 3 small slits on the top of each pie, then bake in oven at 375 degrees for 25-28 minutes. Let pies cool slightly before eating or store in the refrigerator for up to 4 days or in freezer for 1-2 months.