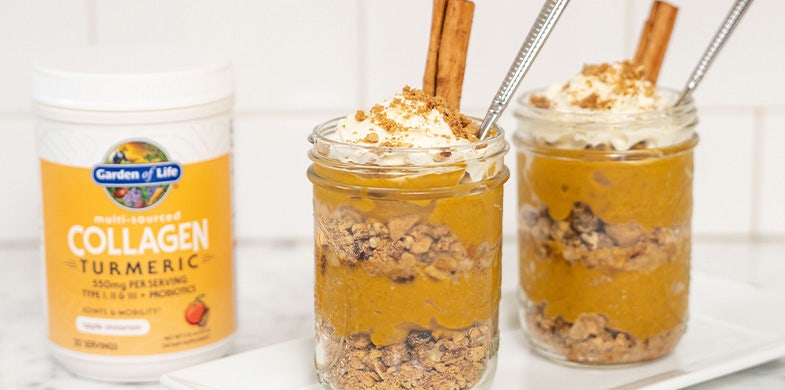 Serves: 6
Crust:
8 ounces graham crackers of your choice
1 cup pecans
3 Tbsp. Garden of Life Coconut Oil
2 Tbsp. maple syrup
½ tsp. sea salt
Filling:
2 15-ounce cans of pumpkin puree or canned pumpkin
1 scoop Garden of Life Raw Organic Protein Vanilla
1 scoop Garden of Life Collagen Turmeric
¼ cup Garden of Life Coconut Oil at room temperature
10-12 large pitted Medjool dates soaked in water for 20 minutes then drained
2 Tbsp. maple syrup
2 Tbsp. pumpkin pie spice
1 tsp. vanilla extract
½ tsp. sea salt
Preparation:
To make the crust, place all crust ingredients into a food processor using the "s" blade and process until crumbly then set aside.
To make the filling, place all ingredients into a high-speed blender or in a food processor and blend until smooth.
In each Mason jar, add enough crust to fill up one-quarter of the jar.
Next, add enough filling on top of the crust so that the jar is half full.
Next, add more crust on the filling so the jar is three-quarters full.
Add a few more tablespoons of the filling on top.
Then top with some whipped cream and chopped pecans and a few dashes of cinnamon.