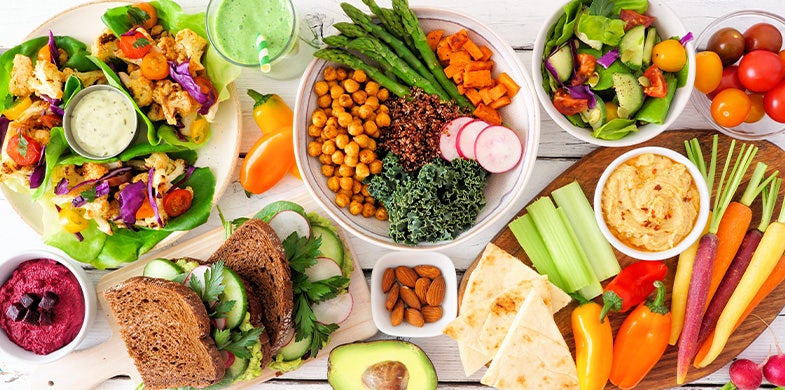 by Tracey Pollack
Healthy Dorm Room Dining 101
Since the norm in the dorm is junk food, stock your dorm room with these healthy dorm staples to stay healthy without going hungry.
Going off to college is an exciting time because there's so much to gain. You'll gain independence. You'll gain new friends. You'll gain new knowledge. And if you're like most college students who fall victim to all-you-can-eat dining halls, late-night pizza parties, and countless trips to the vending machine, you'll also gain the infamous freshman fifteen. But there's more to a college diet than greasy take-out and sugary junk food. It's time to learn about dining in your dorm room. By stocking your mini fridge and dorm room with a variety of healthy foods, you can eat smart for all-day energy and outsmart those junk food temptations. But which foods should you keep in your dorm room to stay fed, fueled, and fit? Take a lesson on the grab-and-go, good-for-you goodies that will fit your dorm room and your diet.
See the Appeal of Fresh Fruits and Veggies
Apples, carrots, and pears oh my! These handheld, healthy fruits and veggies are not only full of vitamins, minerals, and antioxidants, but they'll keep you full for hours with their hunger-halting fiber. While delicious on their own as a grab-and-go snack, you can boost their flavor and nutrition by mixing berries into a cup of yogurt, spreading a banana with nut butter, dipping baby carrots in hummus, or adding spinach to a smoothie. With so many different fruits and veggies, it's easy to keep your diet fresh.
Yes, You Can Make Seafood
Can you afford to eat seafood on a college budget? Yes, you can, as long as it comes in one [can]! Canned tuna, salmon, and sardines are excellent sources of protein and omega-3 fatty acids that not only give you long-lasting energy, but also last a long time in your dorm room. Keeping canned fish on hand means you can always catch a stress-free and mess-free healthy meal.
Dip Into Hummus
This creamy mixture of crushed chickpeas blended with olive oil and a sesame-seed spread known as tahini makes a delicious dip for fresh veggies, pretzels, and pita during late-night study sessions, as well as a scrumptious spread for a lazy, lunchtime sandwich. Packed with fiber and protein, hummus is a healthier dip than those made with mayonnaise and sour cream, so it helps you fit into your jeans. And this plant-based, dairy-free, gluten-free, vegan dip also fits into any eating plan.
Scoop Up Some Yogurt
Whether you go for Greek, full-fat, or one of the dairy-free alternatives, a cup of yogurt has the energizing protein and immune-boosting probiotics to keep you going all day long. Naturally sweet and creamy, mix yogurt with fruit for a dorm-ready breakfast, grab a cup as a snack on the way to class, or mix up a healthy smoothie to quiet those cravings for a pint of ice cream.
Go Nuts for Nut Butters
Whether from peanuts, almonds, cashews, or sunflower seeds, nut butters are full of protein and healthy fats that are just as good for your hunger as they are for your health. Nut butters are easy to keep in your dorm room, and even easier to use for all kinds of snacks and meals. Smear a spoonful on a piece of fruit, spread on whole-grain bread for a hearty sandwich, or drop a dollop into a smoothie for a filling meal or snack that will fill those comfort-food cravings.
Grab a Better-for-You Bar
Leave those candy bars in the vending machine because there are better bars on the block. Protein bars are all-in-one packages of invigorating protein, healthy fats, filling fiber, and grab-and-go convenience—but not all bars are created equal. Since many contain too much sugar or too many questionable ingredients, look for a better bar made with clean, organic, high-quality ingredients from a brand you trust. Keep a bar in your bag for a pick-me-up that won't let you down between classes.
Mix Things Up with a Smoothie
When you pack a lot into your day, you need to pack a lot of good stuff into your meals and snacks. If you don't have the time or energy to make a healthy meal, then drink your meal instead! Drinking a smoothie is one of the easiest ways to get your fruits, veggies, and nutrients into a one-stop, one-handed meal. And all it takes is a blender and a few fresh pantry staples. But fruits and veggies alone won't give you the all-day energy that most college days demand. Adding protein powder into the mix will keep you energized and satisfied enough for a lecture-packed day. Look for a healthy and clean protein powder that's high in protein, low in sugar, and free of fillers and additives.
One to Try:
Pineapple Blueberry Smoothie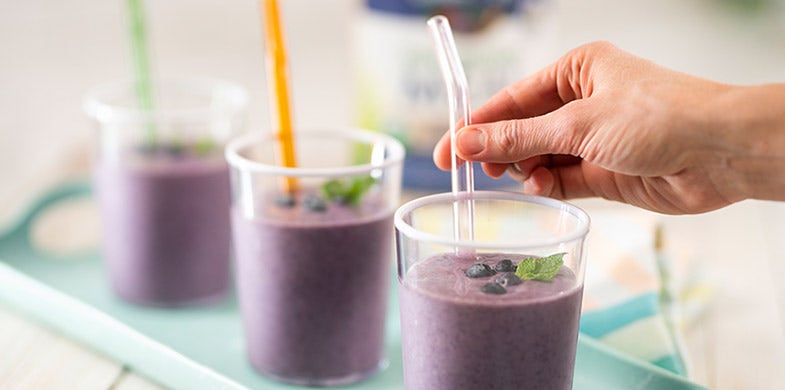 Getting used to college can be hard, but healthy eating doesn't have to be. Stock up on these good-for-you foods for DIY meals and snacks to ace healthy dorm room dining.