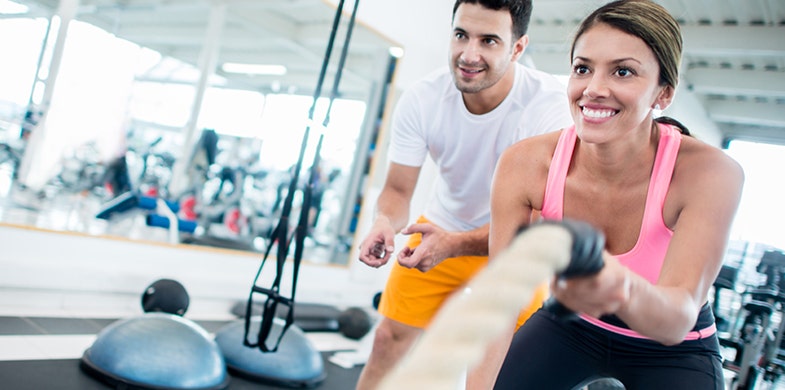 There are many things to enjoy about the fall season, including cooler weather, leaves changing colors, and fun new ways to switch up your routine and stay healthy!
Shifting Workouts Indoors
When the days get shorter, it can be tempting to curl up on the couch in the evenings instead of going out for a run, walk, or swim. Resist the temptation and use the seasonal change to take advantage of a new indoor fitness routine you haven't tried. Barre and HIIT (high intensity interval training) are popular, and with good reason – they torch a ton of calories with workouts that challenge multiple muscle groups. Yoga has become a classic exercise to help balance the mind and blast off any seasonal depression. If traditional yoga seems too boring, try aerial yoga, where you explore poses off the ground, or acroyoga, a practice which combines yoga and acrobatics.
Seasonal Produce
Throughout September, October, and November, mix up your diet with Fall's best fruits and vegetables. Some yummy samplings to enjoy include cranberries, carrots, beets, pear, apples, grapes, cauliflower, sweet potatoes, pumpkin, and a variety of different squash. While you can find many of these other times of the year frozen or in cans, they are all at their peak in the fall, and will taste extra delicious fresh. Many of these also make exceptional soups, including root vegetables like beets and carrots, as well as pumpkin and squash, which are best enjoyed in cooler temperatures. There are many delivery services to pick from that send a variety of produce right to your door, for added convenience and a surprise selection to try new foods.
Probiotics to

Support

Immunity (and

Overall

Health)
The change in seasons unfortunately often goes hand in hand with seasonal colds. While zinc and vitamin C have long been the most touted supplements to support your immune system, research has also shown a strong connection between overall health and gut bacteria. As a result, health experts are now recommending that we turn to probiotics, prebiotics and fermented foods to help maintain gut health. When choosing supplements, be sure to always choose probiotics using our tips for the best results. In addition, a rich source of probiotics is organic yogurt, while kombucha, cottage cheese, kefir, sauerkraut, and kimchi are good choices for fermented foods. Prebiotics can be found in foods like Jerusalem artichokes, asparagus, bananas, oatmeal and chicory root.
So, give these healthy trends a try and enjoy everything this awesome season has to offer.