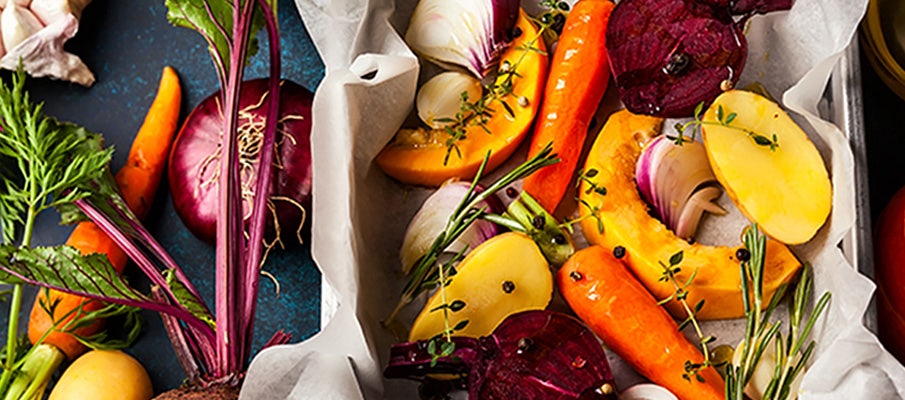 by Ashley Grano
Before even the first leaf drops, there is often a noticeable change in the air that fall is imminent. It's around the same time each year that all the grocery stores and farmers markets begin to offer a colorful new assortment of seasonal autumn favorites. With such a wide variety of limited-time fall vegetbales to pick from, the next challenge is incorporating so many goodies into a finite number of recipes!
Squash
Commonly recognized for its often ornate shape, color, and texture, squash has long been a seasonal favorite. Rich in health benefits, squash is a very good source of vitamin C, magnesium, fiber, potassium, folate, vitamin B6, vitamin K, omega-3 fatty acids, and protein. Some common types include acorn, butternut, delicata, and spaghetti squash. Roasting is one of many chefs' preferred ways to prepare squash, and can be delicious when simply mixing with olive oil, salt, and pepper before popping in the oven.
Beets
Beets are at their most flavorful peak in the fall and offer a tasty way to spruce up an ordinary salad - particularly when pickled or roasted. Beets are loaded with betaine, which is involved in both liver and heart function. They are available in classic reddish-purple color, along with golden, white, and even multi-colored varieties.
Sweet Potatoes
Easy to spot with their bright burnt orange coloring, sweet potatoes are another classic fall vegetables favorite. They are high in beta-carotene, which is known to support healthy eyesight, as well as vitamin C, known for its immunity support properties. In addition, sweet potatoes are also a good source of fiber, with a medium sweet potato containing about four grams of fiber.
Try This: Garden of Life's Sweet Potato Chili Recipe
Pumpkin
Pumpkins are an iconic staple of fall, when used either for decoration or for eating (or both!) Pumpkin is one of the top sources of alpha- and beta-carotene, which the body converts into vitamin A to promote healthy vision. Pumpkin also contains edible seeds, which can be consumed once toasted, and are a great source of alpha-linolenic acid, an omega-3 fatty acid.
Try this Vanilla Chai Pumpkin Pie Recipe
Brussel Sprouts and Cabbage
Chock full of vitamins A and C, both of these cruciferous vegetables are also packed with glucosinolates. Brussel sprouts are especially tasty when roasted and drizzled with some extra virgin olive oil. Cabbage makes an ideal foundation for creating a raw slaw when mixed with carrots, onion, olive oil, and apple cider vinegar.
So, be sure to get out and take advantage of these fabulous fall vegetables while they are in season!