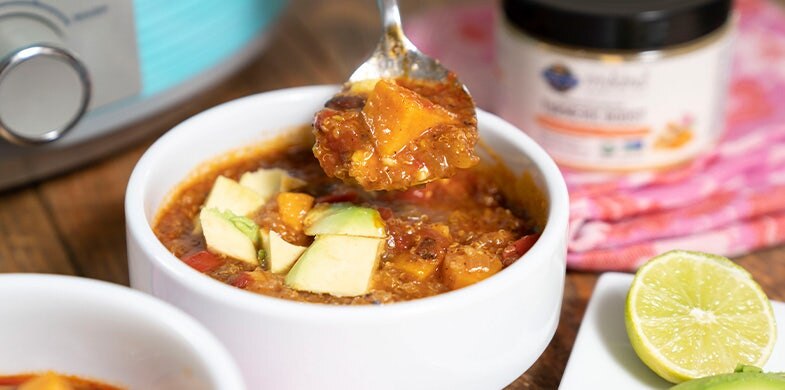 Use Organic:
3 cups peeled and cubed sweet potatoes
1 15oz can tomato sauce
1 15oz can diced tomatoes
1 15oz can black beans rinsed and drained
1 cup chopped red onion
1 red bell pepper chopped
3 garlic cloves minced
1 cup quinoa
4 cups vegetable broth
2 Tablespoons olive oil
2 Tablespoons chili powder
1 Tablespoon Garden of Life Chia Seed
2 teaspoons cumin
½ teaspoon sea salt
½ teaspoon black pepper
Directions:
Place olive oil into a skillet and heat to medium high.
Add in onion, garlic, and red bell pepper and cook for about 5 minutes.
Add in cumin, chili powder, salt, pepper and Turmeric Boost and cook for another minute.
Place onion mixture into a large crock pot and add all other ingredients.
Cook on high for 4 hours.
Serve chili with your favorite toppings like cilantro, avocado, pico de gallo, or salsa.