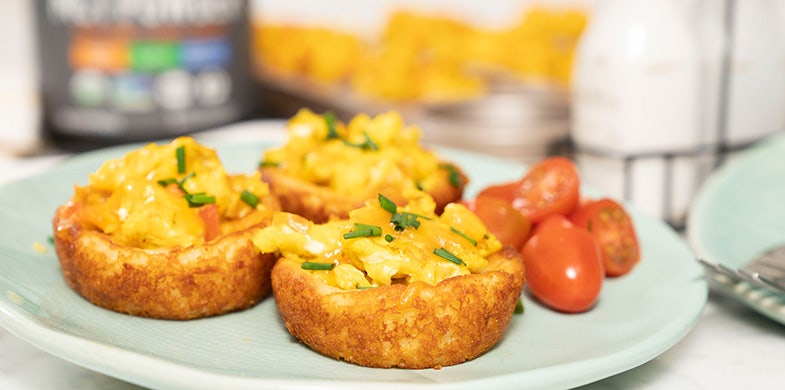 Use Organic:
1 cup almond flour
2 Tablespoons Garden of Life MCT Powder
1 Tablespoon Garden of Life Butter Powder
1 Tablespoon garlic powder
2 teaspoons monkfruit sweetener
2 teaspoons baking powder
½ teaspoon sea salt
½ teaspoon baking soda
¼ cup water
½ cup sour cream or plain yogurt (full fat)
½ cup shredded cheese
3 Tablespoons heavy whipping cream
2 Tablespoons melted grass fed butter
1 egg
Topping:
6 eggs
1 cup diced bell peppers
Salt
Pepper
Olive Oil
Directions:
To make the biscuits, first mix together the flour, MCT powder, butter powder, salt, garlic powder, baking soda and powder, and monkfruit sweetener.
Next, add the remaining ingredients into a bowl and mix until well combined.
Spray a muffin tin with coconut or olive oil spray then spread the batter equally into each cavity.
Bake at 450 for 12 minutes.
To make the filling/topping, add 1-2 teaspoons of olive oil (or coconut oil) into a skillet and melt then add the bell peppers.
Sprinkle salt and pepper onto the bell peppers and cook until tender, then add the eggs and mix them together into the bell peppers until they are cooked.
Add a spoonful of the eggs/peppers onto the top of each biscuit.
Serve with avocado or salsa if desired.