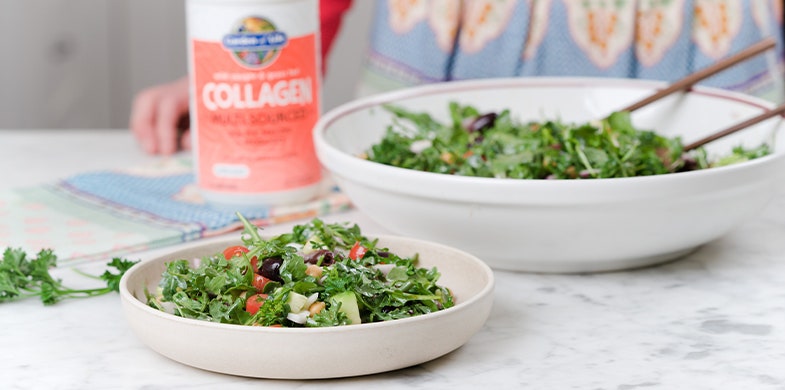 Chef Gwen offers up a Mediterranean Super Salad recipe that is not only yummy, but has Multi-Sourced Collagen added making it "super" healthy.
Serves: 4-6
Ingredients
Use Organic if possible
Salad:
6 cups loose arugula

1 cucumber, peeled and chopped

½ red onion, chopped

1 cup cherry tomatoes, cut in half and salted

1 cup chickpeas

1 bunch parsley, stems removed and chopped

1 cup Kalamata olives
Dressing:
1/3 cup extra virgin olive oil

Juice of 1 lemon

½ Tbsp. Dijon mustard

1 tsp. dried oregano

½ tsp. dried basil

Salt and pepper to taste


Preparation
Make dressing by whisking all dressing ingredients together.

Combine all salad ingredients into a large bowl, then toss with dressing.

Enjoy right away, or store in refrigerator for 2 days.