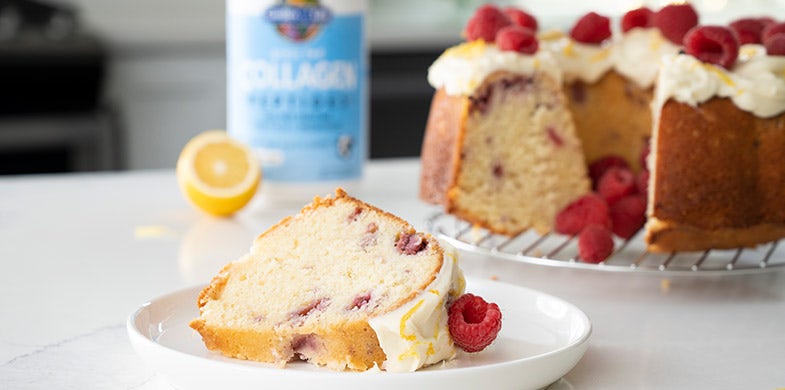 We don't know a single soul that won't just love this yummy Raspberry Lemon Bundt Cake recipe - it's sweet, tangy, delicious, and boosts your collagen intake with a dose of collagen peptides.
Serves: 12-16 slices
Ingredients
Use Organic if possible
2¾ cups gluten-free flour
2 scoops Garden of Life Collagen Peptides
2 Tbsp. corn starch
2 tsp. baking powder
½ tsp. baking soda
¼ tsp. salt
1 cup Greek yogurt, plain (at room temperature)
1 cup butter (grass fed) at room temperature
2 cups monkfruit sweetener
4 eggs
¼ c. fresh lemon juice
1 cup raspberries (plus more for garnish)
Frosting:
1 8oz. block cream cheese at room temperature
¼ cup butter (grass fed) at room temperature
2 c. Swerve Confectioner's Sugar
Garnish:
Raspberries for garnishing and 1 lemon (for the zesting)
Preparation
Preheat oven to 325 degrees and generously grease a bundt cake pan with coconut oil.
Sift together all the dry ingredients (first six listed).
Using an electric mixer, beat together the butter and monkfruit sweetener. Add eggs one at a time and beat until smooth. Add in the Greek yogurt and beat again. Add in the lemon juice and beat on low then add in the flour mixture and beat until combined.
Gently fold in the raspberries and place batter evenly into bundt cake pan and bake for 60-70 minutes (or until an inserted toothpick comes out clean).
Once the cake is cool, remove the cake from the pan and let it cool longer (about an hour or so).
To make the frosting, beat together the cream cheese and butter. Sift the confectioner's sugar to remove any clumps then gradually beat into the cream cheese/butter. Add more sugar if the frosting it too thin.
Spread the frosting over the top of the cake then garnish with raspberries and lemon zest.